'I am very humbled': Hafezi Awarded Prestigious Sloan Fellowship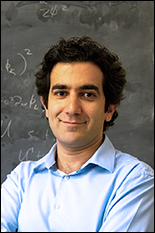 Assistant Professor Mohammad Hafezi, a Joint Quantum Institute Fellow jointly appointed in the Department of Electrical and Computer Engineering and the Institute for Research in Electronics and Applied Physics, has been awarded a prestigious Sloan Research Fellowship. Granted by the Alfred P. Sloan Foundation, this award distinguishes 126 early-career scientists based on their potential to contribute fundamentally significant research to a wider academic community.
"Looking at the list of luminaries who have been given this award in the past, I am very humbled," said Hafezi.
Since the beginning of the program, 43 fellows have received a Nobel Prize in their respective field, 16 have won the Fields Medal in mathematics, 65 have received the National Medal of Science, and 14 have won the John Bates Clark Medal in economics, including every winner since 2007.
Hafezi's research interests include the theoretical and experimental investigation of strongly correlated systems and topological physics, nanophotonics and optomechanics, and hybrid quantum systems.
Prior to joining the UMD faculty in 2014, Hafezi was a senior research associate in the Joint Quantum Institute. He earned his B.S. in physics from École Polytechnique in Paris and his Ph.D. in physics from Harvard University.
Each 2015 Sloan Research Fellow is awarded a two-year $50,000 grant to support their research interests. The fellowships are awarded in eight scientific and technical fields—chemistry, computer science, economics, mathematics, computational and evolutionary molecular biology, neuroscience, ocean sciences and physics. Candidates must be nominated by their fellow scientists and winning fellows are selected by an independent panel of senior scholars on the basis of a candidate's independent research accomplishments, creativity and potential to become a leader in his or her field.
"The beginning of one's career is a crucial time in the life of a scientist. Building a lab, attracting funding in an increasingly competitive environment, and securing tenure all depend on doing innovative, original high-quality work and having that work recognized," said Paul L. Joskow, president of the Alfred P. Sloan Foundation. "For more than 50 years the Sloan Foundation has been proud to celebrate the achievements of extraordinary young scientists who are pushing the boundaries of scientific knowledge."
Hafezi is one of four University of Maryland faculty to be awarded a 2015 Sloan Research Fellowship. Learn more: http://ter.ps/8gf
Published February 23, 2015