Iacangelo Awarded Olatunji Godo Biomedical Research Scholarship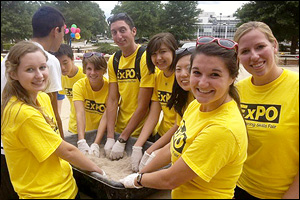 Fischell Department of Bioengineering (BioE) junior Abigail (Abby) Iacangelo has been named the 2013 recipient of an Olatunji Godo Biomedical Research Scholarship.
Established in 2012 by alumnus Olatunji Godo (B.S. '11, materials science and engineering), the scholarship fund supports undergraduates conducting research in BioE, the Department of Chemical and Biomolecular Engineering, or the Department of Materials Science and Engineering. Godo established the scholarship so other students could have the opportunities he had as a Clark School student.
Iacangelo works in BioE associate professor Adam Hsieh's Orthopaedic Mechanobiology Lab, where she is comparing the mechanical properties of various tendon types used in anterior cruciate ligament (ACL) replacement.
Typically, she explains, surgeons select a tendon from the patient's lower legs or hamstrings to take the place of the damaged ACL. Although this has been successful, many disagree on exactly which tendon works best, so the graft a patient receives is largely based on their doctor's preference.
"The motivation behind this work is that if the mechanical properties of the [replacement] tendons are not significantly different from one another, then it is possible to substitute the different types of tendons…If this proves true, then there will be an impact on the relative availability of human allografts for ACL replacement."
Iacangelo, who is interested in the design of prosthetic limbs, got involved in research as a sophomore. After examining the Clark School's bioengineering and mechanical engineering labs, she ultimately felt Hsieh's was the best fit, and was happy to discover he was "more than willing" to have her join his team. She has since participated in a variety of Hsieh's studies, which she says has enhanced and broadened her skillset.
"Research has been very rewarding," she adds. "To see an experiment start from words on a paper and develop into a protocol and a procedure and eventually data is very satisfying. Working in a lab has taught me great problem solving skills because there is always something new going wrong that usually involves a creative solution. I have also learned to ask for help. When I began working in the lab I was too nervous to ask the graduate students for their help [or] advice, but I've since learned that everyone is always so approachable and understanding if I make a mistake or am unsure of how to proceed."
Outside of class and the lab, Iacangelo is the vice president of the Clark School's chapter of Engineers Without Borders, and a member of its Brazil and Peru teams. After earning her B.S., she plans to attend graduate school to pursue a Ph.D.
Both Godo Scholarships were awarded to BioE students this year. Iacangelo's classmate, Nathan Barber, was the other recipient.
Published December 16, 2013