Chung Honored at Commencement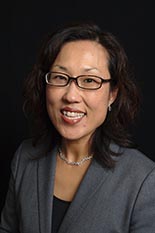 Tracy Chung (Ph.D. '06, English), the Fischell Department of Bioengineering's (BioE) Director of Academic and Student Affairs, received the Dr. Marilyn Berman Pollans Outstanding Service Award for Staff at the A. James Clark School of Engineering's 2013 Winter Commencement Ceremony in December. The award is given annually to honor "a staff member whose service to his or her department, to the school, and the university has been judged outstanding."
"While we all knew she is a truly deserving recipient of this award, it's particularly gratifying that her talents and dedication have now been duly recognized by the college," says BioE professor and chair William E. Bentley.
Chung began her career at the University of Maryland as a lecturer teaching introductory courses in literature and academic writing. In 2004, she became a full time staff member in the Asian American Studies Program, which sparked her interest in advocating for students and creating administrative structures that would most benefit their educational experiences.
In 2005, she became the Department of Mechanical Engineering's graduate coordinator. In 2006, she moved to the Department of Electrical and Computer Engineering (ECE), where she served as the director of its Graduate Studies Office. In 2008, she received ECE's Staff Award in recognition of her accomplishments and outstanding service to the department's faculty, staff, and students.
"Tracy is an extraordinary colleague," says professor and former ECE department chair Patrick O'Shea. "…she played a key role in steering our graduate program to its current level of excellence."
"Tracy is a pleasure to work with," adds ECE professor Ray Liu, who served as the Associate Chair for Graduate Studies and Research during Chung's time with the department. "She goes out of her way to be a team player [and] is willing to lend a helping hand to others. Tracy is a role model [who demonstrates] that one can make a difference with the right attitude and determination."
Chung says the most rewarding part of her job is serving the students. Many of whom referred to her as "Dr. Tracy", although she never asked. "I enjoy trying my best and working hard to [be] a resource for them," she says. "I have found working with international graduate students especially interesting, and I admire their commitment. They leave their home countries for research and education, and they really see the Clark School and UMD as their new home and community."
She also appreciates the opportunities she has had to work with the faculty on shaping the department's academic programs. "I like being surrounded by such smart and accomplished people," she adds. "I find it very motivating." Chung sincerely appreciates other Clark School staff members for another reason, too; "I truly appreciate their mentorship," she says.
When Chung joined BioE in December 2011, she brought her experience, expertise, and camaraderie to her new position.
"We are indeed fortunate that Tracy instilled a culture of high expectation and excellence in ECE, while insisting on fairness and equity among students, faculty and staff," says Bentley. "She has translated those characteristics to our department and has had a tremendous impact on our own success."
Published December 23, 2013