Fischell Fellow Spotlight: Alisa Clyne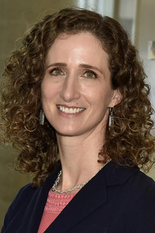 Alisa Clyne is a Fischell Fellow and Associate Professor for the Fischell Department of Bioengineering. She is also Associate Chair for the BIOE Diversity, Inclusion, and Equity Committee.
Clyne got involved with the Fischell Institute from her interest to translate her research through biomedical devices. As her laboratory has primarily focused on understanding mechanisms of cardiovascular disease, they would like to develop diagnostics to better identify those at risk for a cardiovascular event such as a heart attack or stroke.
Clyne's area of expertise is cardiovascular mechanobiology and metabolism. Clyne's Vascular Kinetics Laboratory studies how forces in the blood vessels—from fluid flow or the stiffness of the vessels themselves—impact the health of blood vessels. They are particularly interested in how these forces change the way blood cells use and transport nutrients and how that can lead to cardiovascular diseases such as atherosclerosis.
Clyne uses in vitro, in vivo, and in silico models to study how blood flow impacts blood vessel metabolism and how this contributes to cardiovascular disease. Her lab also examines how exercise protects against Alzheimer's disease and how red blood cells promote blood vessel health during and after exercise. Their latest work is a collaborative effort to build computational metabolism and metabolite transport models in the vascular wall.
"I'm particularly excited about the computational work we are doing because I think computational models are essential to understanding complex systems," said Clyne. "We can perform complex experiments, and then we need the computational models to determine what is happening in the system."
Clyne would like to examine why people from certain groups—specifically urban and rural populations of lower socioeconomic status—experience early and severe cardiovascular disease.
Currently, physicians can only measure cardiovascular risk factors (e.g., blood pressure, cholesterol), but they cannot directly measure cardiovascular health. Clyne is looking for collaborations to create point-of-care devices that will directly measure cardiovascular health using a blood sample. This could significantly improve a physician's ability to predict who is most likely to have a heart attack or a stroke and treat them more aggressively.
Outside of work, Clyne loves to ride her Peloton bike, walk her dog, swim, play sports with her kids, and explore new places. She also enjoys word games like crossword puzzles, fixing things around the house, and cooking/baking delicious foods!
Published March 17, 2023