Fischell Institute Affiliate Fellow Spotlight: Jenna Mueller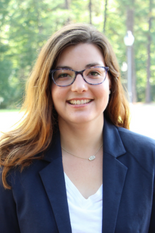 Jenna Mueller is a Fischell Institute Affiliate Fellow and Assistant Professor for the Fischell Department of Bioengineering. Her expertise is in developing low-cost biomedical devices to increase access to healthcare, particularly in low-income communities. Specifically, her laboratory develops optical devices to view disease and ablative therapies to treat disease, particularly precancerous and cancerous lesions.
A typical day for Mueller is writing grants, editing student manuscripts, and meeting with students, faculty, and collaborators (both local and global). She'll also work on preparing for class and will go into the laboratory to work with her students on a prototype or experiment.
Mueller first learned about the Fischell Institute while interviewing at the university. "It was one of the things I was most excited about," she said. "Between the Fischell Institute, M-CERSI, UM Ventures, and proximity to FDA, NIH, NSF, etc., there are an incredible amount of translational resources available to bioengineers at UMD. I remember thinking, what better place could there be for my lab?"
One of the first small grants she received was through UM Ventures, called the Maryland Medical Device Development Fund. The grant aimed to work with Fischell Institute's Chief Engineer, John Rzasa, and Senior Engineer, Kevin Aroom, to develop a next-generation version of a low-cost laparoscope for surgery in low and middle-income countries (LMICs).
Recently, the team received R21 and U01 grants from the National Cancer Institute to move this device from an initial prototype to a more refined design. Rzasa and Aroom are working on this project to optimize and prepare the second-generation prototypes for manufacturing. Mueller noted that it is almost ready for regulatory approval and clinical trials with their collaborators at the Ugandan Cancer Institute.
Another project Mueller is working on is a handheld injector to deliver an ablative agent into the cervix to treat precancerous lesions. This initiative started as a capstone design project by now-MPower fellow David Garvey. He has continued working closely with Aroom and Fischell Institute's Associate Director Martha Wang to refine the design of the injector. They will test it in excised human cervixes and get feedback on its design from the OB-GYN department at the University of Maryland School of Medicine. Mueller is currently applying for SBIR phase 2 funding to continue to develop the device and then apply for regulatory approval.
Mueller is looking for more collaborations in gynecologic oncology. One specific area of collaboration she's looking for is a clinical partner who would be interested in doing a phase 1 clinical trial to evaluate the handheld injector and ablative agent formulation.
"What excites me about my work is the potential to impact people's lives for the better—to bring healthcare technologies to them in low-income settings and reduce the barriers for receiving healthcare," she said. "I hope with the projects we are currently working on, it doesn't just stay in the lab—it gets out into the world and helps people."
Outside work, Mueller loves her animals: Cheddar, the corgi; Julian, the beagle; and Marie Purrie, the tabby cat. She is a certified yoga teacher and likes both doing yoga and teaching it. She and her husband enjoy cooking together and hosting dinner parties and game nights, which they have done with her lab (the animals love having the lab over too).
Published February 23, 2023