Fischell Institute Spotlight: Bill Bentley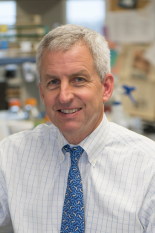 William "Bill" Bentley has been the Director of the Robert E. Fischell Institute of Biomedical Devices since its launch in 2019.
The Fischell Institute was established with the goal of enabling the development of systems and devices that improve human health, a mission that Bentley strives to fulfill.
"I hope that we cultivate innovative concepts and transition them into commercial practice. Along the way, outstanding, creative, and energetic engineers gain insight, practice, and a huge leap towards a great career," he said.
Bentley believes that the Fischell Institute's most significant accomplishment to date was the development of thermoformed, transparent, and comfortable N-95 respirators/masks—passing both fit and flow testing—in response to the COVID-19 pandemic. This project partnered with clinicians at Children's National Hospital, the Washington Hospital Center, Uniformed Services University, Walter Reed National Military Medical Center, the University of Maryland Baltimore, and others, to transition into marketed products with ActivArmor, Inc., from Colorado.
"We are quite proud of this translation. Diana Hall, CEO of ActivArmor, told us that she sold over 10,000 masks, so who knows how many people we helped," Bentley said. "This effort also validated our ability as an Institute to conceive of, reduce to practice, address regulatory constraints, and see a product through to the marketplace."
Bentley is also a faculty member (and was the founding Chair of) the Fischell Department of Bioengineering, where he teaches courses and maintains a substantial research group. His research group works primarily on the genetic regulation of cell-to-cell communication in bacteria's natural environments. Most of the group's efforts have been motivated by synthesizing active protein products, such as antibody therapeutics. They are also involved in biomanufacturing and participate in several university and industry consortia.
On top of his other obligations, Bentley most recently took on the additional role of Director of the Maryland Technology Enterprise Institute (Mtech), which guides aspiring and existing entrepreneurs through the entire lifecycle of launching and maintaining technology-based ventures.
Outside of work, Bentley enjoys exercising (running, backpacking, kayaking), woodworking, spending time on the water and with his family.
Published April 28, 2023