Dr. Robert "Smitty" Oakes is the recipient of the 2023 BWF BioInterfaces Rising Star Award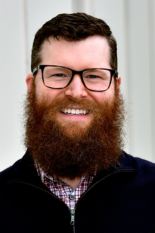 Robert "Smitty" Oakes, a postdoc working in the Jewell Lab in the Fischell Department of Bioengineering, is the recipient of the 2023 BWF BioInterfaces Rising Star Award.
"It is an incredible honor to receive the 2023 BWF BioInterfaces Rising Star Award from the Society for Biomaterials (SFB)," Oakes said. "SFB has been a home conference for me throughout my research career, and this award reflects many years of work across several institutions."
This award specifically recognizes his work in biointerfaces, the space where biology contacts another material. From implantable devices to nanoparticle therapeutics, the utility of all biomaterials depends on these various cellular and molecular interactions. This fundamental importance inspired him to devote his research to modulating, deciphering, and designing biointerfaces, explicitly focusing on immune cells and inflammatory pathways.
Oakes joined the Jewell Lab in 2018 to focus his postdoctoral training on nanotechnology and autoimmunity. His current work centers around building therapeutics for patients with autoimmune diseases, such as multiple sclerosis, by pushing the immune response towards a desired outcome, which can range from fighting cancer to countering autoimmunity to controlling inflammation surrounding medical implants.
"I've always been interested in engineering and science, but I didn't realize the breadth of scientific careers when I was younger," he said.
Oakes received his undergraduate degree in physics in 2009 from Lenoir-Rhyne University, after which he intended to pursue aerospace engineering. Instead, after completing his undergraduate degree. Oakes learned about the field of biomedical engineering. This discovery inspired him to change career paths and build tools to help people. In 2016, he received his Ph.D. in Bioengineering from the University of Utah.
Oakes is independently supported by a VA Career Development Award (CDA-2). This $800K award enables his current research and will help boost his transition to an independent faculty career. His work explicitly contributes to the VA Women Veterans Health Initiative, since veterans and women are more likely to develop autoimmune diseases like multiple sclerosis.
Oakes' career goal is to build a diverse, inclusive, team-based lab environment where members pursue transformative research and training for career and personal growth.
"I want my team to explore the boundaries of knowledge with an approach centered on helping people. I find my purpose in pursuing technologies that could improve lives and in the mentorship of lab members," he said.
Outside of the lab, Oakes loves hiking and mountain biking with his spouse. He grew up in Appalachia and did his graduate training in the Rockies, so he has a deep appreciation for the majesty of both environments.
Published April 28, 2023