BIOE Ph.D. Candidate Courtney Johnson Recognized at NSBE49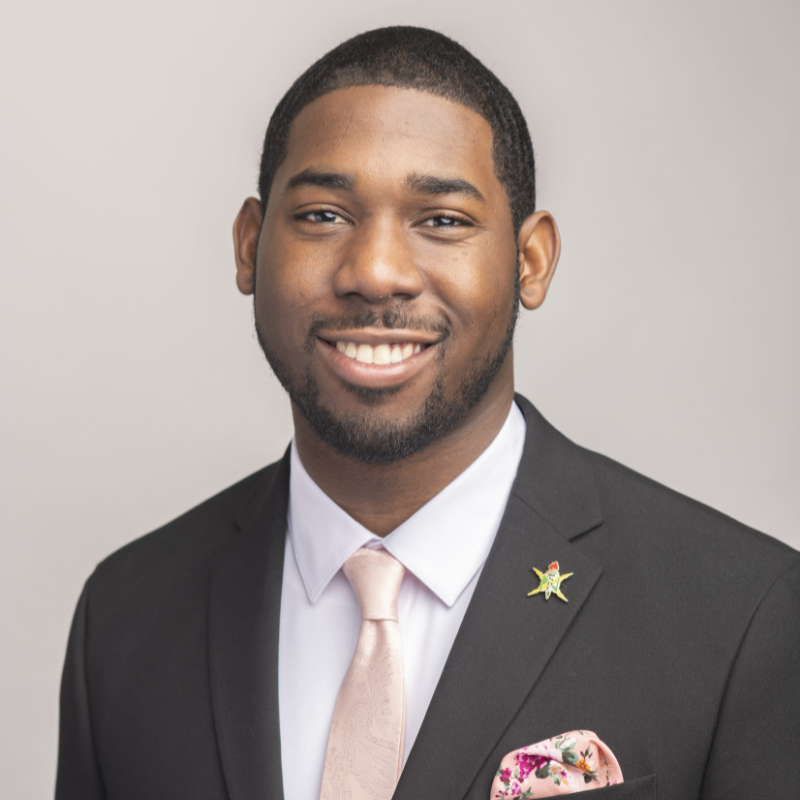 The National Society of Black Engineers (NSBE) hosted its 49th Annual Convention (NSBE49) on March 22–25, 2023. The event brought 13,000 attendees to Kansas City for a week of technical, professional, and soft-skill development. The University of Maryland (UMD) had much to celebrate at NSBE49, as three Maryland Engineering students were recognized for their leadership in advancing NSBE as an organization. One such student was Fischelle Department of Bioengineering Ph.D. candidate Courtney Johnson.
Johnson was recognised during the Golden Torch Awards (GTA), which celebrates NSBE members and corporations that have done phenomenal work to advance the mission of the society. It also celebrates Black engineers who excel academically, succeed professionally, and leave a positive impact on their community.
During the GTA, Johnson was recognized as the Mike Shinn NSBE Distinguished Member (Male), a prestigious honor given to members considered role models in NSBE based on their academic and professional success and service to the organization. Johnson has exemplified this criterion since becoming a NSBE member in 2012. He has been a leader for eight years at the chapter, regional, and national levels.
As National Programs Chair, Johnson was responsible for the strategic plan concerning the programs and partnerships needed to accomplish the society's 2025 goal of graduating 10,000 Black engineers annually. Additionally, he has awarded over $500,000 in scholarships and grants to members and chapters as the head of NSBE's Scholarships and Awards Committee. Johnson has established long-standing partnerships with STEM organizations, such as Engineers Without Borders and DiscoverE, to conduct robust and diverse programming for NSBE members.
"In my speech, I spoke of how NSBE impacted my life significantly and was an integral part of my journey to becoming an engineer and to working toward a cure for diabetes," he said. Johnson concluded his acceptance speech by dedicating the award to his mother, who was celebrating her birthday that night and attending her first NSBE conference.
"

NSBE impacted my life significantly and was an integral part of my journey to becoming an engineer and to working toward a cure for diabetes."
To close out the night, Favour Nerrise, a UMD computer engineering alumni, transitioned her title as National Chair to the new elect, her Black Engineering Society (BES) President predecessor, and current National Programs Chair, Avery Layne, a UMD mechanical engineering Master's student.
This convention is the first time in NSBE's history that two National Chairs have consecutively been elected from the same university. Layne is passionate about preparing and promoting leaders within the society and leading the programmatic vision of the community as it moves through 2025 and beyond. He seeks to increase chapter support and resources, maximize partnerships, and strengthen communication among all organizational stakeholders.
He also understands that a robust leadership pipeline is necessary for NSBE to move forward beyond 2025. In his acceptance, he passionately spoke of the moment he realized this need when joining the regional board. After talking to advisors and former national board members, he understood that he needed to be National Chair to effectively address this issue, lighting the spark necessary to pursue higher leadership. Being elected fulfilled that goal, and now the work to address the challenges of NSBE as the leader of the society begins.
Overall, NSBE49 was historic both for the organization as it prepares to celebrate its 50th anniversary, and for UMD as it continues to be a leading contributor to the NSBE legacy and leadership. Johnson, Nerrise, and Layne are exemplary of the caliber of leadership produced by UMD. UMD students have consistently served on the regional and national level of NSBE and, as NSBE and BES move past their 50-year milestone, more will come.
Story written by Courtney Johnson.
Published May 5, 2023