BIOE Postdoctoral Researcher Spotlight: Marian Ackun-Farmmer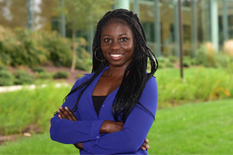 Fischell Department of Bioengineering Postdoctoral Researcher Marian Ackun-Farmmer recently received the NIH Postdoc (F32) Fellowship. The fellowship was awarded through the National Institute of Allergy and Infectious Diseases (NIAID) and provides up to two years of financial support. Her research proposal focuses on developing controlled release immune complexes to treat Multiple sclerosis.
Ackun-Farmmer decided to join the University of Maryland for her postdoctoral research to work with BIOE Professor Chris Jewell. She wanted to gain immunoengineering experience to supplement her research background in drug delivery. For her bachelor's degree in biomedical engineering, she attended George Washington University, and for her master's and doctorate degrees in biomedical engineering, she attended the University of Rochester.
"Marian has been fantastic to work with in the lab—she's full of energy, creative, and brings ideas and leadership to both her research and our lab dynamic," said Jewell. "I'm so proud of her and can't wait to see the impact she brings to our community."
Ackun-Farmmer plans to pursue an academic position at a research-intensive institution and will launch her own lab. She is interested in biomedical engineering because it's inherently interdisciplinary and has given her unique opportunities to work with scientists from different scientific backgrounds, including chemists, immunologists, and pathologists and people from all over the world.
Ackun-Farmmer advises those interested in pursuing bioengineering to be bold and take risks. "Do not be afraid to walk away from your work if you feel uninspired," she said. "Inspiration comes from many places, and sometimes taking a break is what you need to restart your imagination and to be inspired again."
Outside of work, Ackun-Farmmer enjoys arts and crafts. She has a sewing machine at home and a mannequin to inspire new projects. She likes to sing and dance and has participated in community musical theater at George Washington University and the University of Rochester. Some of her favorite roles include playing Dionne in Hair and being a Ronnette in Little Shop of Horrors. She also likes to travel and loves that her job in academia provides opportunities to meet people and experience new cultures!
Published March 1, 2023