Kofinas Receives Clark School Faculty Service Award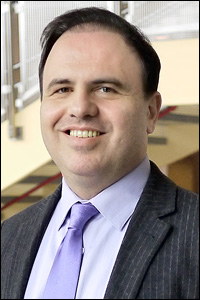 The Fischell Department of Bioengineering (BioE) extends its congratulations to Professor Peter Kofinas, who was presented with the Clark School's Faculty Service Award at the Fall 2013 Commencement ceremony. The award is given annually to a faculty member whose service to his or her department, to the Clark School, and to the university has been judged outstanding.
Kofinas was cited for his "excellent mentoring of undergraduate and graduate students and his significant service" to the campus.
Over the course of his 17 years with the Clark School, he has been active in administrative service. His contributions include serving a term as Chair of the Clark School's Appointments, Promotion and Tenure (APT) committee, and serving as a member of both a Tenure Appeals Committee and the Provost's Academic Planning and Advisory Committee (APAC). In 2012, he became the Clark School's Associate Dean for Faculty Affairs & Graduate Programs.
Kofinas has also been a dedicated mentor, instructor and advisor to students throughout the Clark School, well beyond his research group and department. As a Keystone Professor, he is one of a select group of Clark School faculty specializing in promoting the early success and retention of undergraduate engineering students. He was one of the first six professors nominated by the undergraduate student body for the Clark School's National Science Foundation-funded ENGAGED program, which also supports student retention through improvements to coursework and faculty-student interaction. His dedication to the education of students at all levels earned him the Clark School's E. Robert Kent Outstanding Teaching Award for Junior Faculty in 1999.
Kofinas' highly cited research, which has been presented in many major publications and on television, focuses on the use of nanostructured functional polymers in applications ranging from medicine and pharmaceuticals to energy storage and microelectronics. He serves on review panels for regional federal agencies and has pursued numerous entrepreneurial opportunities associated with his work. The University of Maryland Division of Research has recognized him on multiple occasions as a "Research Leader" for his success in bringing substantial sponsored research funding to campus.
He and his students have turned in strong and winning performances at business plan competitions, in which they have promoted diverse products including intelligent food packaging, blood coagulants, a therapeutic gene delivery system for fighting breast cancer, and a solid state polymer electrolyte for lithium-ion batteries. The technology behind his polymer-based dialysis system, which won the university's 2008 Life Sciences Outstanding Invention of the Year, was subsequently licensed by Link Plus BioTech, Inc.
Kofinas earned his B.S. in chemical engineering, M.S. in chemical engineering practice, and Ph.D. in materials science and engineering from the Massachusetts Institute of Technology.
Published January 6, 2014