Barber Awarded Olatunji Godo Biomedical Research Scholarship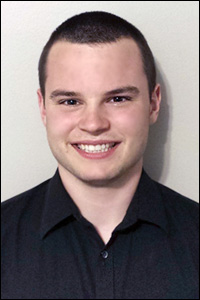 Fischell Department of Bioengineering (BioE) junior Nathan Barber has been named the 2013 recipient of the Olatunji Godo Biomedical Research Scholarship.
Established in 2012 by alumnus Olatunji Godo (B.S. '11, materials science and engineering), the scholarship fund supports undergraduates conducting research in BioE, the Department of Chemical and Biomolecular Engineering, or the Department of Materials Science and Engineering. Godo established the scholarship so other students could have the opportunities he had as a Clark School student.
Barber, who has been a member of BioE professor and chair William E. Bentley's research group since the summer after his freshman year, focuses on metabolic and genetic engineering. His current research, conducted under the mentorship of BioE graduate student Jessica Terrel, uses modified E. coli bacteria that fluoresce when they encounter signaling molecules excreted by harmful bacteria. This ability to respond to a specific type of molecule allows them to be used as a diagnostic tool capable of detecting contamination in complex biological samples. The E. coli sensors also carry nanoparticles that are used to magnetically separate them out of a solution when their work is done.
"While many programs offer an engineering degree teaching similar knowledge, the experiences I've acquired through the research opportunities at Maryland are what set me apart and make me unique," says Barber. "They've given me context in which I can apply my coursework, and the ability to apply classroom concepts to a real world problem."
Barber chose to study bioengineering because it enables him to combine his creativity and fascination with biology in a way that helps other people. He got involved in research after conducting an interview with Bentley for a Science, Technology and Society Scholars Program project. "Determination and an eagerness to learn" won him a position in Bentley's group, where he received fundamental training from BioE graduate student Amin Zargar before working on Terrel's project. Terrel, he says, has provided "countless hours" of guidance.
After earning his B.S., Barber would like to pursue a graduate degree, and ultimately apply his skills in industry. Outside of the lab, he is a member of the Bioengineering Honors Program, a rock climber, and a member of the Navigators Christian Fellowship.
Both Godo Scholarships were awarded to BioE students this year. Barber's classmate, Abigail Iacangelo, was the other recipient.
Published December 5, 2013