Epps to Deliver Winter Commencement Speech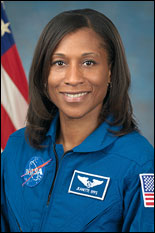 NASA astronaut and Aerospace Engineering alumna will speak at Clark School ceremony on Dec. 22.
The A. James Clark School of Engineering Winter Commencement Ceremony will be held on Sunday, December 22, at 3:30 pm in the Reckord Armory. Jeanette Epps (M.S., AE, '94, Ph.D., AE, '00), an astronaut with NASA, will serve as the guest speaker, and David Peeler, a candidate for a bachelor of science degree in Bioengineering, will serve as the student speaker.
Dr. Jeanette J. Epps was selected as one of 14 members of the 20th NASA astronaut class in July 2009. She is a graduate of Astronaut Candidate Training, which included scientific and technical briefings, intensive instruction in International Space Station systems, Extravehicular Activity (EVA), robotics, physiological training, T-38 flight training, and water and wilderness survival training. Dr. Epps is the first Ph.D. graduate from the University of Maryland Department of Aerospace Engineering to become a NASA astronaut. (Judith Resnik, an Electrical Engineering alumna, also served as a NASA astronaut.)
Dr. Epps earned a B.S. in Physics from LeMoyne College in 1992, as well as an M.S. and Ph.D. in Aerospace Engineering from the University of Maryland in 1994 and 2000, respectively.
A NASA Fellow during graduate school, Dr. Epps authored several highly referenced journal and conference articles. Her research has involved extensive testing of composite swept-tip beams, comparative analysis of analytical models and experimental data for shape memory alloys, and the application of shape memory alloy actuators for tracking helicopter rotor blades.
After completing graduate school, Dr. Epps was subsequently a Technical Specialist in the Scientific Research Laboratory at Ford Motor Company where she developed magnetostrictive actuators to reduce vibrations that enter a vehicle via the suspension control arms. Dr. Epps also investigated automobile collision location detection and countermeasure systems, which resulted in the granting of a U.S. Patent. In 2002, Dr. Epps joined the Central Intelligence Agency (CIA) where she spent more than 7 years working as a Technical Intelligence Officer. She received multiple performance rewards for her work at the CIA and was a three-time recipient of the Exceptional Performance Award (2003, 2004 and 2008). Dr. Epps is a member of AIAA and the Society for Science and the Public.
David Peeler has enjoyed leading the student BioMedical Engineering Society (BMES) where he served as Vice President and President. He has worked on projects with Engineers Without Borders and served as a representative in the Student Government Association. A northern Baltimore County native, he is currently applying to Bioengineering doctoral programs to study nanomedicine and biomaterials next fall.
Published December 6, 2013