Joyner Awarded BIOE Postdoctoral Achievement Award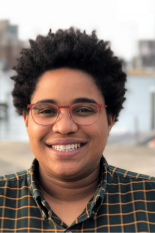 Postdoctoral fellow Katherine Joyner was granted the Fischell Department of Bioengineering (BIOE) 2020 Postdoctoral Achievement Award in recognition of her significant accomplishments in research, funding, and mentoring.
Joyner, a member of BIOE Assistant Professor Gregg Duncan's Nanoscale Interfacial Biology and Engineering Laboratory, is working to develop the next generation of mucosal diagnostics and to shed new light on the role of mucus in the progression of diseases.
"Mucus is a heterogeneous biomaterial that can have a broad range of structural and functional difference between patients," Joyner said. "This heterogeneity presents many challenges in understanding the mechanisms leading to impaired mucus in diseases such as cystic fibrosis, asthma, and irritable bowel disease. To overcome this barrier, a robust, reproducible, and physiologically relevant mucus model is needed to systematically understand how the changes in mucus properties directly contribute to disease progression."
Recognizing this, Joyner is working to engineer a mucin-mimicking hydrogel that models the microscale and nanoscale properties of naturally secreted mucus. She and Duncan applied this approach towards developing new methods of detecting aerosolized COVID-19, in collaboration with UMD School of Public Health Professor and Robert E. Fischell Institute for Biomedical Devices faculty member Don Milton. The team's efforts earned funding support from the Bill & Melinda Gates Foundation to further develop the tools necessary to understand aerosol transmission of COVID-19.
In addition to her work in the lab, Joyner has demonstrated a passion for mentorship, having directly mentored seven BIOE undergraduates and served as a leader to countless graduate students. Joyner was an invited participant in the National Research Mentoring Network Workshop hosted by the Big Ten Academic Alliance, where she explored best mentorship practices in areas such as maintaining effective communication and fostering independence. She also founded BIOE's first-ever postdoctoral fellow association, and she previously served as an adjunct instructor in the Master of Engineering in Bioengineering degree program.
"It has become clear to me that Dr. Joyner is a gifted scientist and engineer who possesses the critical skills and traits to perform impactful research as an independent investigator," Duncan said. "She was the first member of my research group, and was essential to our lab's establishment. She has become a leader in my group as she serves as an exceptional mentor for trainees in my lab."
Joyner is actively involved in collaborative research with scientists and clinicians at the University of Maryland, as well as with Children's National Hospital and the University of Maryland, Baltimore.
Prior to joining the department in 2018, Joyner studied in University of Maryland School of Pharmacy Professor Bruce Yu's lab, where she developed expertise in biomaterial design and synthesis. Joyner also previously served as an adjunct faculty member at Towson University, and taught for four years at the high-school level at the Carver Vocational-Technical High School and the Johns Hopkins Center for Talented Youth in Baltimore.
Published December 21, 2020