Kids Learn How Biomedical Imaging Could Save Transplant Patients' Lives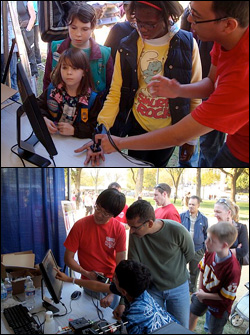 Children attending the
USA Science and Engineering Festival
received some literal firsthand experience with an advanced biomedical imaging device that produced live, high-resolution images of the tissues beneath their skin, courtesy of Fischell Department of Bioengineering assistant professor Yu Chen and students from his Biophotonic Imaging Laboratory.
Over 500,000 people attended the festival, held October 10-24, 2010 on the National Mall in Washington, D.C. The free event featured over 1500 exhibits, celebrity appearances, 25 Nobel Laureates, and activities for children.
Chen's entire research group—including graduate students Chao-Wei Chen, Chia-Pin Liang, and Jeremiah Wierwille—interacted with enthusiastic visitors of all ages, explaining their research and giving hands-on demonstrations of their optical coherence tomography (OCT) system.
OCT produces detailed, micron-scale imaging of soft tissue in situ (in place in the body) and in real time, a task X-ray machines cannot perform. It enables what Chen refers to as an "optical biopsy"—visualization of changes to tissues without the need for surgery to acquire a sample.
At the festival, the Chen Group presented one of their projects, which promotes the use of OCT as an imaging tool to monitor the condition of a donor kidney in real-time, prior to and immediately following transplant surgery. OCT could provide doctors with immediate feedback about how the kidney is responding to its new environment. The Chen Group recently received approval to begin pilot studies during human kidney transplant procedures performed at the Georgetown University Medical Center.
Wierwille, who was interviewed about the group's work for a story in the Washington Post, enjoyed participating in the festival.
"This was a great opportunity for us to participate in an excellent national event," he says. "I think the best part was being able to meet lots of young students who were interested in science and engineering. I enjoyed explaining our work on a very fundamental level, so that even elementary students could understand how OCT could help save people's lives. I also had the opportunity to speak to people from the medical field about our research. They were very interested in OCT and its potential as a diagnostic tool during transplant procedures."
Learn More:
Visit the USA Science and Engineering Festival web site »
Visit a gallery of the Chen Group's photos from the festival »
Read the article in which the Chen Group was featured, "Festival on the Mall challenges young and old to think scientifically," at washingtonpost.com »
Visit Professor Chen's homepage »
Related Scientific Publications:
Maristela L. Onozato, Peter M. Andrews, Qian Li, James Jiang, Alex Cable and Yu Chen. "Optical Coherence Tomography of Human Kidney" Journal of Urology (2010) 183(5), 2090-2094.
Qian Li, Maristela L. Onozato, Peter M. Andrews, Chao-Wei Chen, Andrew Paek, Renee Naphas, Shuai Yuan, James Jiang, Alex Cable, and Yu Chen. "Automated quantification of microstructural dimensions of the human kidney using optical coherence tomography (OCT)" Opt. Express (2009) 17, 16000-16016.
Peter M Andrews, Yu Chen, Maristela L Onozato, Shu-Wei Huang, Desmond C Adler, Robert A Huber, James Jiang, Scott E Barry, Alex E Cable and James G Fujimoto. "High-resolution optical coherence tomography imaging of the living kidney" Lab Invest (2008) 88, 441-449.
Desmond C. Adler1, Yu Chen, Robert Huber, Joseph Schmitt, James Connolly and James G. Fujimoto1. "Three-dimensional endomicroscopy using optical coherence tomography" Nature Photonics (2007) 1, 709-716.
Published November 9, 2010