Kofinas, Janiak Win Outstanding Invention of the Year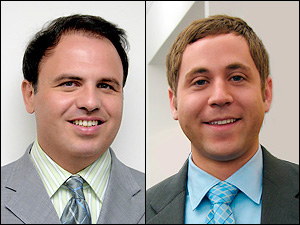 A molecularly imprinted polymer (MIP) capable of filtering viruses from the blood has been named the Outstanding Invention of the Year in the Life Sciences category of the University's Office of Technology and Commercialization's annual awards. Fischell Department of Bioengineering professor Peter Kofinas and Department of Materials Science and Engineering graduate student Daniel Janiak created the technology in Kofinas' Functional Macromolecular Laboratory.
Janiak and Kofinas's invention takes the form of a highly absorbent, water-insoluble polymer hydrogel that resembles firm gelatin. The gel is imprinted with a specific virus' shape. When molecules of that target virus are filtered though the gel, they—and only they—fit snugly into the imprint cavities and are trapped. The polymer is compatible with dialysis, hemodialysis, and blood analysis systems already available in hospitals and clinics, providing an easy and cost-effective means of converting existing equipment into systems capable of the direct removal of viruses from the bloodstream. Different versions of the polymer can be synthesized to address a variety of illnesses. While not a cure, it should aid in treatment and reduce symptoms.
The technology, often referred to as the "virus sponge", has already received media and industry attention. In January 2008, Link Plus Corporation, a biotechnology company located in Columbia, Md., formed a subsidiary called Link Plus BioTech, Inc. to focus on public health related applications of the detection, binding, and separation of viruses using Kofinas' and Janiak's MIPs.
To Learn More:
Visit the Functional Macromolecular Laboratory web site »
Visit the Link Plus web site »
Visit the Office of Technology and Commercialization »
Related Stories:
Clark School "Virus Sponge" Could Improve Flu Treatments, Diabetes Care, Vaccine Development »
Clark School press release.
Company to Utilize Kofinas's, Janiak's MIPs Technology »
Molecularly Imprinted Polymers for Viral Diagnostics »
Profile of Daniel Janiak and his work.
Published April 21, 2008