Janiak Named Kauffman Fellow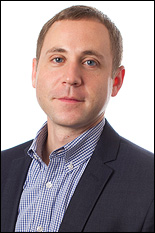 A. James Clark School of Engineering alumnus and former Fischell Fellow Dan Janiak (B.S. '04 and Ph.D. '09, materials science and engineering) was awarded a
Kauffman Fellowship
, which includes admission into an elite, two-year program designed to educate the world's most promising, up-and-coming venture capitalists.
Fellows continue to work full time at their respective venture firms while participating in an apprenticeship that includes mentoring, professional coaching, networking, and a curriculum of quarterly classes in industrial leadership.
After completing their fellowships, participants become lifetime members of the Society of Kaufmann Fellows. Society members make up a global network of expert venture capitalists who continue to share insights, opportunities and resources while mentoring the next generation of the best and brightest in the field.
Janiak became interested in entrepreneurship during his tenure as one of the Fischell Department of Bioengineering's (BioE) Fischell Fellows. Together with his advisor, BioE professor Peter Kofinas, he developed molecularly imprinted hydrogel polymers capable of filtering viruses from the blood into a marketable product with applications in hemodialysis, vaccine production, and diagnostics. In 2008 the pair received the university's Office of Technology and Commercialization's Outstanding Invention of the Year award in the life sciences category for the product, which was later licensed by Link Plus Corporation.
Janiak is currently an investment team associate at DFJ Mercury, where he specializes in the development of biomedical- and bioscience-based startup companies.
Published August 30, 2012