Kofinas, Janiak Take 1st Place in Business Plan Competition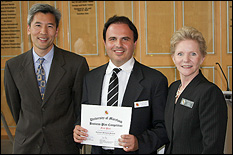 Intelligent Packaging Systems, a startup created by Fischell Department of Bioengineering Professor Peter Kofinas and MSE graduate student and Fischell Fellow Dan Janiak, has taken first place in the Faculty and Graduate Student Division of the Maryland Technology Enterprise Institute's 2008 $50K Business Plan Competition. Kofinas and Janiak received $15,000 in prize money to continue the development of their company.
Intelligent Packaging Systems manufactures flexible polymer coatings that change color upon the detection of foodborne bacteria such as E. Coli, Salmonella, or Listeria. IPS's coatings can be incorporated into any existing food packaging, providing both producers and consumers of a wide variety of foods, such as beef, poultry, pork, fruits, vegetables, juices and dairy products, with a reliable method of identifying contaminated products.
The UM $50K Business Plan Competition promotes the commercialization of innovative ideas and University-created technologies by offering faculty, students, and alumni prizes for the best new venture plans. The competition emphasizes learning by offering one-to-one coaching for finalists, as well as the experience of presenting ideas to an experienced panel of judges. Historically it has awarded a total of $385,000 in prizes to faculty, students, and alumni to launch innovative new ventures. Companies active in the Competition have generated millions in revenues, grants and awards. Past winners include Chesapeake PERL Inc., AnthroTronix Inc., Affiliate Classroom, and Squarespace Inc.
Winners of this year's competition were chosen among eight finalist teams in three categories during an event on May 9. Each team gave investor presentations to a team of distinguished judges: Henry Ahn, Program Manager, Technology Funding Programs, Maryland Technology Development Corporation (TEDCO); Warren Citrin, Co-founder and Board Member, Gloto Corp.; Ray Dizon, Managing Director, Maryland Venture Fund; Wei-Wu He, General Partner and Co-founder of Emerging Technology Partners LLC; Mark Kass, Member, Mintz, Levin, Cohn, Ferris, Glovsky and Popeo; and Karl Renner, Principal, Fish & Richardson P.C.
Sponsors for the event included: Fish & Richardson P.C.; Mintz, Levin, Cohn, Ferris, Glovsky and Popeo; Maryland Technology Development Corporation; Maryland Department of Business and Economic Development.
For more information:
Visit the UM $50K Business plan Competition web site »
Learn more about Dan Janiak and his research »
Learn more about the Kofinas Group by visiting the Functional Macromolecular Laboratory web site »
Published May 15, 2008