Ma Awarded Teaching & Learning Grant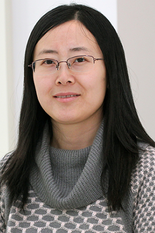 Biocomputational Engineering (BCE) Degree Program Assistant Director Lan Ma was awarded a University of Maryland Teaching & Learning grant to support the BCE Senior Capstone Design course in spring 2023.
This $20,000 grant provides funding to educational projects that focus on expanding active and experiential learning. Ma plans to apply the funds to expand the BCE Senior Capstone Design course in order to integrate a project-based learning experience with real-world applications.
The aim is for BCE students to create innovative technology while applying interdisciplinary knowledge in computer science, mathematics, and biotechnology. Students will practice state-of-the-art technology such as advanced Python and R programming, machine learning algorithms, computer vision techniques, medical image analysis, DNA sequence analysis, and more. .
Through the course, students will also explore data ethics and diversity, equity, and inclusion (DEI) convergence in the field of artificial intelligence in life sciences. Ma emphasized that students will learn to become responsible data scientists, taking into account DEI when using cutting-edge artificial intelligence technology to solve big-data-based health care problems.
The BCE Capstone course will also introduce students to a reflection-based approach to research, allowing them to draw connections between their project and the full body of knowledge they have acquired throughout their studies in BCE. For example, during the project design phase, students will search for optimal solutions to health challenges by way of a reflective exploration of knowledge across the disciplines of computer science, engineering, and mathematics. "In order to successfully implement an advanced biocomputational solution, the most challenging part is to properly combine analytical analysis based on math – such as statistics, differential equations, and machine learning – and bioengineering, together with computer programming," Ma said, noting that this is especially true when cutting-edge artificial intelligence methods are added to the mix.
Furthermore, the BCE Capstone course is designed to teach students techniques for effective project management, project execution, and team collaboration.
Published August 5, 2022