Yousefi Awarded USM M.O.S.T. Grant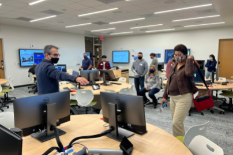 Fischell Department of Bioengineering/Biocomputational Engineering Faculty Instructor Bardia Yousefi was awarded the University System of Maryland's William E. Kirwan Center for Academic Innovation 2022-2023 Maryland Open Source Textbook (M.O.S.T.) Initiative Faculty Open Educational Resources (OER) Mini-Grant.
This award supports faculty efforts to increase accessibility, affordability, and opportunities for achievement for students at Maryland's postsecondary institutions through the incorporation of OER into teaching practice. Yousefi plans to apply this award to bolster his biocomputational engineering core course, ENBC321: Machine Learning for Data Analysis.
"This will help students gain easy access to the materials and resources related to machine-learning topics," he said. "This money helps us cover materials and supplies, as well as publication fees, and provides some important data processing equipment." This grant also creates unique opportunities for faculty to engage with communities of practice for the creation and publication of OER in high-need areas.
As this year's grantee, Yousefi will participate in the Rebus Textbook Success Program, which is designed as a professional development resource that equips faculty with the tools they need to make effective open course materials.
Published August 2, 2022