Martin Exhibit to be Unveiled April 10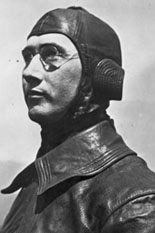 A new exhibit presenting the bronze bust of pioneer aviator, entrepreneur and Clark School benefactor Glenn L. Martin will be unveiled in the Kim Engineering Building on April 10.
The new exhibit will feature text and photos about Martin's contributions to aviation and the university and about his business successes. His company was a predecessor to Lockheed Martin, which has also been a tremendous supporter of the Clark School. The exhibit will also highlight the current beneficiaries of the many professorships funded by Martin's generous gifts to the university in the 1940s and 50s.
The Martin bust was sculpted by Marchello Storelli in 1957. The new exhibit is being crafted by Clark School alumnus Helmut Guenschel, B.S. '62 civil engineering. The exhibit will move to its permanent home in the main lobby of Martin Hall later this spring.
The ceremony will take place at 3:30 p.m. in the Innovation Hall of Fame in the Kim Building. There will be remarks by Clark School Dean Nariman Farvardin, as well as university administrators and guests from Lockheed Martin.
All Clark School students are invited to attend. Refreshments will be served.
This event is sponsored by Lockheed Martin Corporation.
Published March 3, 2006