Maryland Engineering's Chris Jewell Appointed MPower Professor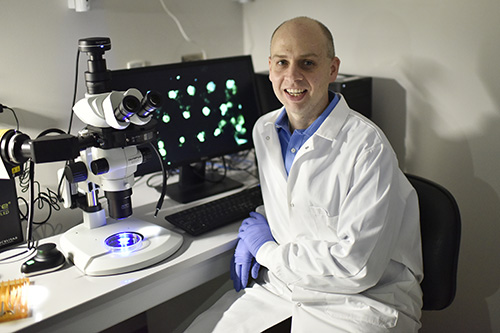 Fischell Department of Bioengineering Minta Martin Professor of Engineering Christopher M. Jewell was named an MPower Professor by the University of Maryland Strategic Partnership: MPowering the State. Jewell is one of four University of Maryland, College Park (UMCP) faculty members to receive the honor along with four University of Maryland, Baltimore (UMB) faculty members.
The MPower Professorship recognizes, incentivizes, and fosters collaborations between faculty who are working together on the most pressing issues of our time. To be considered for the MPower Professorship, faculty must demonstrate collaboration on strategic research that would be unattainable or difficult to achieve by UMB or UMCP acting independent of one another, and must embrace the mission of MPower — to collaboratively strengthen and serve the state of Maryland and its citizens.
Each professor will receive $150,000, allocated over three years, to apply to their salary or to support supplemental research activities. These funds recognize, enable, and support strong collaborations between faculty in the joint research enterprise between UMCP and UMB.
"With this investment, we are accelerating the pace of our research and the pace of our impact on the lives of Marylanders," said UMB president Bruce E. Jarrell. "By supporting these MPower Professors, we are recognizing the commitment and drive they've already shown, and we are opening up new possibilities for their work, giving them the freedom to think big, tackle new problems, and achieve results much quicker than ever before."
"This inaugural cohort of MPower Professors includes stellar leaders who have created significant collaborations across the University of Maryland, College Park and the University of Maryland, Baltimore, and each received extraordinary support in the nomination process," said UMCP president Darryll J. Pines. "Our two campuses are strengthened by interdisciplinary research, and I congratulate and commend these faculty members for their initiative and dedication."
In additional to his Fischell Department of Bioengineering (BIOE) appointment, Jewell is an affiliate faculty member in the Department of Microbiology and Immunology at the University of Maryland School of Medicine, a full member of the University of Maryland Marlene and Stewart Greenebaum Comprehensive Cancer Center, and an affiliate faculty member in the Robert E. Fischell Institute for Biomedical Devices. Jewell is also a research biologist with the U.S. Department of Veterans Affairs Biomedical Laboratory Research and Development Service.
"Society needs the critical innovations that come from the collaborations between engineering and medicine. We want to strengthen these interdisciplinary activities to solve major challenges facing us in medical therapies and the treatment of diseases," said A. James Clark School of Engineering Dean Samuel Graham, Jr. "We're very proud that Professor Jewell's leadership in interdisciplinary research and discovery in this area is making a difference in people's lives and sets an example for other teams to follow."
"It has been incredibly exciting and inspiring to witness Dr. Jewell's successes over the years," said BIOE chair John Fisher. "He and his research team have demonstrated how interdisciplinary collaboration is critical to the process of finding solutions to major health challenges. Dr. Jewell has helped drive research breakthroughs that could one day transform how cancers and autoimmune diseases are treated, all the while fostering a spirit of collegiality and an earnest commitment to expanding access to STEM and public health education."
Jewell has received over 50 awards, including the Presidential Early Career Award for Scientists and Engineers from the White House, and authored more than 100 papers in journals such as ACS Nano, Nature Materials, PNAS, Nature, and Nature Biotechnology. Jewell is a fellow of both the Biomedical Engineering Society and the American Institute for Medical and Biological Engineering.
"Wow! It was really exciting to get the note from President Pines informing me that I was selected for this professorship," Jewell said. "Every day, I get to work with this incredible team of creative, hilarious, and brilliant individuals in and outside my lab. The amount I've learned from [Department of Surgery Vice Chair for Research] Jonathan Bromberg alone – my first collaborator at the University of Maryland, Baltimore in 2012 – could fill volumes. My entire program and mentoring approach is team-based, so it's been exciting to see my lab's efforts grow over the past decade as we've welcomed new folks, projects, and initiatives with UMB, Veterans Affairs, and others. It's been an incredible adventure and I can't wait to see what happens next."
In August 2012, Jewell established his UMCP lab, the Immune Engineering Lab, which works to develop biomaterials that generate immune responses with specific, tunable characteristics. Jewell's group is driven by two complementary aims: basic investigations to understand the interactions between synthetic materials and the immune system, and translational studies that exploit these interactions for therapeutic vaccines targeting cancer and autoimmunity. In parallel, Jewell's lab also focuses on mentorship and promoting a positive, inclusive training environment that positions lab members for impactful careers.
Jewell graduated from Lehigh University with high honors in 2003, earning bachelor's degrees in chemical engineering and molecular biology. He completed his master's degree and Ph.D. in chemical engineering at the University of Wisconsin, then joined the Boston Consulting Group as a health care practice consultant in the New York Office. Jewell completed his postdoctoral work at the Massachusetts Institute of Technology and Harvard University, jointly appointed as a Ragon Postdoctoral Fellow.
In addition to Jewell, UMCP faculty members Cheryl L. Knott (School of Public Health), Donald Milton (School of Public Health), and Joseph Richardson (College of Behavioral and Social Sciences) were named MPower Professors, along with UMB faculty members Luana Colloca (School of Nursing), Rao P. Gullapalli (School of Medicine), Deanna L. Kelly (School of Medicine), and Yihua Bruce Yu (School of Pharmacy).
The University of Maryland Strategic Partnership: MPowering the State leverages the sizable strengths and complementary missions of both UMB and UMCP to strengthen Maryland's innovation economy, advance interdisciplinary research, create opportunities for students, and solve important problems for the people of Maryland and the nation. Working together, UMB and UMCP achieve innovation and impact through collaboration.
The University of Maryland Strategic Partnership Act of 2016 strengthened and formalized the structured relationship between UMB and UMCP, which began in 2012. The law deepens the alliance and enables UMB and UMCP to pursue even greater transformative change and impact, far surpassing what each institution could do independent of the other.
Published November 19, 2021