ResearchFest 2013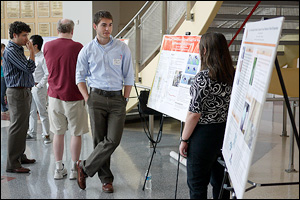 Graduate students Janet Hsu (Fischell Department of Bioengineering [BioE]), Wei W. Yu (BioE), Jiayu Wan (Department of Materials Science and Engineering [MSE]), and Wenbo Zhou (Department of Chemical and Biomolecular Engineering [ChBE]) were chosen as the winners of the 2013 ResearchFest, held over the summer.
ResearchFest, a casual "mixer" symposium and lunch that encourages students to share their work with faculty, staff and students from other research groups, is an annual event sponsored by BioE, ChBE, MSE, and their respective graduate student societies. Students give one-minute oral presentations about their work, which serve as pitches to invite guests to visit them at their posters to learn more. Special guests are invited to serve as judges, and prizes awarded for the best presentations.
BioE graduate student Wei W. Yu, advised by BioE professor Ian White, was named the event's overall winner for his presentation and poster, titled "Paper SERS Devices for Chemical Detection and Medical Diagnostics." (Learn more about Yu's work.)
The best presentation and poster from a representative of each department were also honored:
BioE: Janet Hsu, advised by BioE professor Silvia Muro, for "Interaction of ICAM-1-Targeted Polymer Nanocarriers with Different Brain Cell Types in Culture." (Learn more about Hsu's work.)
ChBE: Wenbo Zhou, advised by ChBE/Chemistry and Biochemistry professor Michael Zachariah, for "Morphological Changes to Surface Attached Bacterial Spores Subjected to Sub-second Thermal Stress."
MSE: Jiayu Wan, advised by MSE professor Liangbing Hu, for "Intercalated Optoelectronics of 2D Materials."
The 2013 ResearchFest judges were:
Dr. Milind Ajinkya, Chemical Engineer, Exxon (retired)
Dr. Tieren Gao, Research Associate, MSE
Dr. Angela Fu (Ph.D. '13, bioengineering), Research Fellow, FDA
The departments and our graduate societies would like to thank all of our judges for their generous donation of their time and efforts.
ResearchFest 2013 was organized and staffed by:
Anthony Melchiorri and Amin Zargar, Bioengineering Graduate Student Society (BGSS)
Chanda Arya and Andrew Quinn, Chemical and Biomolecular Engineering Graduate Student Association (CGA)
Richard Sukoski, Materials Science Graduate Society (MSGS)
To learn more and see more photos from this event, visit the 2013 ResearchFest homepage
Published September 22, 2013