SafeLiCell Takes 2nd at Green Business Plan Competition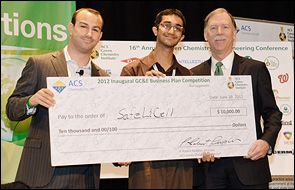 A Clark School undergraduate's pitch for a patent-pending, solid polymer electrolyte designed to make lithium-ion batteries safer won second place and a $10,000 prize in the
American Chemical Society
's (ACS) Green Chemistry Institute Inaugural Business Plan Competition, held June 19-20 in Washington, D.C.
Fischell Department of Bioengineering (BioE) rising junior Mian Khalid represented SafeLiCell, the startup company he co-founded with his advisor, BioE professor Peter Kofinas, and fellow Kofinas Group member, Department of Chemical and Biomolecular Engineering graduate student Aaron Fisher.
SafeLiCell's product, Lithium Flex, is a light, strong film that can be wrapped or bent into different shapes without breaking, and, unlike current lithium-ion battery electrolytes, contains no combustible or corrosive materials.
By the time the team received their invitations to the ACS's Green Chemistry & Engineering Conference, where the final round of the competition took place, Kofinas and Fisher were scheduled to attend conferences in Korea. They encouraged Khalid to take reins.
"I was very excited to have an opportunity to present SafeLiCell's business plan on my own," says Khalid, "[but] it was definitely a bit unnerving to compete with full-time professionals in the field." Although he felt confident he had delivered a solid presentation and successfully fielded questions from the judges, he admits he was "stunned" to learn he'd earned the $10,00 second prize.
"I am very grateful to have had a chance to present at the conference and to have won the confidence of the judges and the audience," he says, adding that his participation in the competition was an "invaluable experience."
"Mian was the youngest person in the competition by far," says Kofinas. "He's a great example of the caliber of our undergraduates, who have demonstrated they can compete and win in events held at professional and national levels. I am very proud of him."
The Green Chemistry Institute award is SafeLiCell's second significant win. In April 2012, the company took second place in and received a $15,000 prize at the inaugural $100K ACC Clean Energy Challenge business plan competition.
Khalid's work in Kofinas's Functional Macromolecular Laboratory is funded by an Undergraduate Research Fellowship from Howard Hughes Medical Institute. He also majors in English and is a member of the Clark School's Engineering Honors Program and the College Park Scholars' Global Public Health program.
Published June 29, 2012