Serrano Wins Nanomedicine Poster Award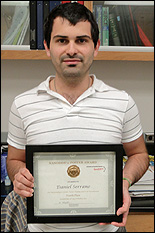 Biological Sciences Graduate Program (BISI) student Daniel Serrano, advised by Fischell Department of Bioengineering assistant professor Silvia Muro (joint;
Institute for Bioscience and Biotechnology Research
[IBBR]) received a poster award for his presentation on the use of a glycoprotein that aids in targeting and transport transport of therapeutic drugs and their carriers at the
Ninth International Nanomedicine and Drug Delivery Symposium
, held in Salt Lake City, Utah in October 2011.
The poster, which took fourth place in the symposium's competition, was co-authored by Serrano, Muro and former IBBR postdoctoral research associate Carmen Garnacho (School of Medicine, Universidad de Sevilla, Spain). It described a new peptide for ICAM-1-specific targeting and intra-endothelial transport of polymer nanocarriers.
The work explains the design and characterization of the new short affinity peptide, derived from a natural ligand of a protein called intercellular adhesion molecule 1 (ICAM-1), which can be used by drug nanocarriers to target cells that express it. ICAM-1 is produced by the endothelial cells that line the interior surfaces of blood vessels throughout the body. Carriers that target and lock onto ICAM-1 can be used to treat cardiovascular diseases and other conditions where successful transport from the bloodstream into these cells or other tissues is either more effective or required. Because the peptide recognizes ICAM-1 in both mice and humans, it could be used in future clinical trials.
Published November 14, 2011