Bhowmick Wins CRS Outstanding Consumer & Diversified Products Paper Award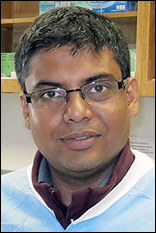 A polymer nanocarrier capable of delivering drugs across the body's high-security blood-brain barrier is the latest innovation from Assistant Professor
Silvia Muro
's research group to be recognized for its potential to improve the quality of life of those suffering from rare and difficult to treat disorders.
Postdoctoral fellow Dr. Tridib Bhowmick, a member of Muro's group and the Institute for Bioscience & Biotechnology Research (IBBR), received the Controlled Release Society's (CRS) highly recognized 2011 Outstanding Consumer and Diversified Products Paper Award for his efforts to design and characterize efficient, safer, efficient, and noninvasive strategies for drug transport across the blood brain barrier (BBB). CRS is the premier international society for drug delivery science and technology, serving members in industry, academia, and government from more than 50 countries.
Because the BBB is a highly regulated system, composed of a single layer of tightly bound brain cells, there is a physical barrier between the circulating blood and brain tissue. Bhowmick's research shows that targeting model polymer nanocarriers to cell surface markers of the BBB involved in transport provides the means for directing therapeutics across the barrier and into brain cells without apparent side-effects. He and his colleagues have demonstrated that their nanocarriers successfully targeted delivery of active enzymes into the brain parenchyma and neurons.
Muro says that Bhowmick's platform is already used in several of her group's major research projects, and holds great potential for the treatment of various neurological conditions.
"We have used Tridib's findings to develop central nervous system therapies for genetic lysosomal disorders, transporting therapeutics across the gastrointestinal tract, and for studying the mechanistic aspects of how that transport occurs and is regulated from the biological side," she explains. "Although in a very early stage of development, the platform could improve the delivery of drugs to the brain, particularly large molecules and biologicals."
Bhowmick presented his work and received his award at a plenary session titled "Pharmaceutical Product Development: From Concept to Clinic" during the 38th Annual Meeting & Exposition of the Controlled Release Society, held July 30—August 3, 2011 in Baltimore, Maryland. Several of the Muro Group's other projects were also represented at the CRS conference in a total of one poster and five podium presentations in sessions covering various methods of drug delivery, oral controlled release, and protein delivery.
Bhowmick's work was funded by the American Heart Association and the National Institutes of Health. In addition to Muro, his collaborators include Janet Hsu (Fischell Department of Bioengineering), Rajwinder Dhami and Edward Schuchman (Genetics & Genomic Sciences, Mount Sinai School of Medicine), and Scott Burks and Joseph Kao (Center for Biomedical Engineering & Technology, University of Maryland, Baltimore).
Portions of this story were adapted from the original by Dr. Debra L. Weinstein, IBBR.
Published August 8, 2011