Melchiorri Named 2011 Fischell Fellow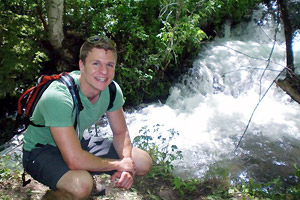 The Fischell Department of Bioengineering is pleased to welcome the newest recipient of the Fischell Fellowship in Biomedical Engineering, incoming graduate student Anthony Melchiorri. The Fischell Fellowship is awarded annually to talented and innovative graduate students interested in applied research and product design in the biomedical industry.
Melchiorri is also the recipient of a National Science Foundation Graduate Research Fellowship and a Maryland Technology Enterprise Institute (Mtech) Citrin Fellowship, awarded to engineering students interested in entrepreneurship in the field of global sustainability.
Melchiorri, who earned a B.S.E in biomedical engineering and a B.A in English from the University of Iowa in 2011, was active in cardiovascular research throughout his undergraduate studies. As a freshman and sophomore, he studied nanoparticle applications in identifying and imaging mesenchymal stem cells after implantation, and the cells' subsequent cardiomyogenic differentiation. In his junior year he studied Amplatzer® atrial septal occluders, devices designed to close holes in the heart, identifying the physical factors that create risks when they are used in pediatric patients. The work resulted in abstracts and presentations at an FDA conference and at the 1st International Conference on Computational Simulation in Congenital Heart Disease. Between his junior and senior years, Melchiorri was an intern with Cook, Inc., where he worked on differential cardiovascular devices and helped design a new research methodology to test drug-coated devices. His work with the company's biopsy tools resulted in several patent applications.
"I chose the Fischell Department of Bioengineering because of the variety of opportunities available to BioE graduate students," he says. "The [department's] collaborations with and proximity of the FDA and NIH...provided additional benefits for a student like me, [who is] interested in pursuing research as a career and especially interested in commercialization of medical therapies. The entrepreneurship program [at the Maryland Technology Enterprise Institute] was another influencing factor. I saw how well it worked with students in creating viable companies from their ideas and research."
At the Clark School, Melchiorri hopes to pursue research in cardiovascular therapies that will ultimately have a significant clinical impact. "One of the most important aspects of working as a biomedical engineer is understanding and collaborating with doctors," he says. "I'd like to collaborate with healthcare professionals throughout my graduate studies to develop therapies that work in the lab and clinic."
After earning his Ph.D., Melchiorri would like to start his own biotech company. He was inspired to pursue entrepreneurship by another of his undergraduate internships, at a small bioinformatics company called Bio::Neos. "I believe some of the best innovations and ideas can come to fruition with a small group of dedicated, resourceful individuals," he says, explaining that his time at Bio::Neos exposed him to the challenges and rewards of working in a startup environment. He is also interested in teaching, and considers his time as a T.A. for a high school biomedical engineering class one of the more rewarding experiences he has had.
Outside of the lab, Melchiorri enjoys fiction writing, reading, skimboarding, scuba diving, and playing blues guitar. He has also been involved in a variety of volunteer and charitable activities while a member of Tau Beta Pi (the Engineering Honor Society) and the social fraternity Beta Theta Pi. In 2008 he organized a silent auction to raise money for a charity dedicated to Iowa flood relief. Learn more about the Fellowship and current and past Fellows »
Published August 9, 2011