Matthew Dowling Receives 2005 Fischell Fellowship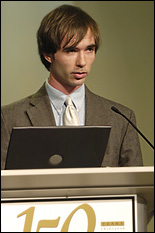 Congratulations to Matthew Dowling, recipient of the 2005 Fischell Fellowship in Biomedical Engineering. His proposal, "Gelatin Nanoparticles Containing Stabilized Vesicles: A Novel Chemotherapuetic Delivery System for Treatment of Malignant Glioma," impressed the members of the selection committee, who awarded him this prestigious fellowship. Matt comes to UMD via Notre Dame, where he earned his B.S in Chemical Engineering in 2004.
The Fischell Fellowship supports a full time graduate student in a Ph.D. program at the University of Maryland as they work to develop a new medical device or system that could be valuable in the treatment of a human disorder. It is designed to go beyond scholarly achievement to produce new medical systems and devices to treat disease. The awards are made based on competition, ingenuity, and original ideas. In addition to financial support, the recipient of the Fischell Fellowship receives the support of UMD faculty drawn from life sciences, physical sciences, and engineering, as well as access to the entrepreneurial opportunities at the Clark School's Engineering Research Center and at the R.H. Smith School of Business.
Matt hit the ground running and has already expressed an interest in taking classes in entrepreneurship and product development at the Robert H. Smith School of Business. We are sure to see more of Matt and his research in the future.
Published December 19, 2005