Goertz Named 2013 Fischell Fellow (VIDEO)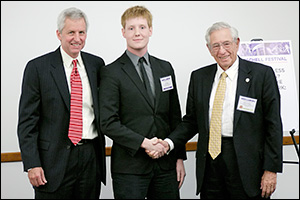 The Fischell Department of Bioengineering is pleased to announce the newest recipient of the Fischell Fellowship in Biomedical Engineering, first year graduate student John Goertz. Goertz was officially introduced as the 2013 Fischell Fellow at the seventh Fischell Festival, held in late October.
The Fischell Fellowship is awarded annually to talented and innovative graduate students interested in applied research and product design in the biomedical industry.
Goertz says he decided to combine and use his undergraduate experiences in physics and biology to pursue a career in bioengineering, a field in which he hopes to have an international impact on human health.
"In particular, I want to work on low-cost, portable tools for infectious disease diagnostics for use in resource-poor areas," he explains. "What attracted me to [the Fischell Department of] Bioengineering at the University of Maryland was the not just its focus on bringing new biomedical tools to the market, but also that the department is very engaged in creating technologies accessible to all socioeconomic tiers. So much progress has been made in basic as well as translational science that we have the imperative and the ability to allow the needs of the poor, and the victims of structural violence, to drive future innovation. "
Fischell Fellow John Goertz is introduced and talks about his research goals at the 2013 Fischell Festival.
After attending high school in Anchorage, Alaska, Goertz earned his B.S. in physics and cell biology from Seattle University (SU). At SU, he was a member of two research groups. He first worked in SU College of Nursing Assistant Professor Patrick Murphy's lab, where he performed atomic force microscopy (AFM) analysis of the interactions between the chaperone protein hsp90 and its client protein, the glucocorticoid receptor. He also created a MATLAB-based program to aid in the analysis of the AFM images. In 2011, he represented Murphy's group at the University of Washington Nanotechnology Conference, where, despite being the undergraduate in attendance, he took third place in its poster competition.
Goertz later studied quasi-two-dimensional fluid dynamics under the direction of SU Department of Physics Associate Professor Paul Fontana. In Fontana's lab, he examined the interplay of surface friction, viscosity, and flow speed profiles on vortex shedding, finding potential flaws in common assumptions made when adapting the well-known Roschko formula from three to two dimensions.
Outside of the lab, Geortz has been an Eagle Scout, a member of physics honor society Sigma Pi Sigma, an SU a campus media technician, and a volunteer physics tutor in SU's Physics Club. He received honorable mentions for the Goldwater Scholarship in 2011 and 2012, and a NASA Space Grant travel award and Biophysical Society Education Travel Grant to present a poster at the 2012 annual meeting of the Biophysical Society. In his free time, he enjoys hiking, cooking, brewing, and practicing the martial art Danzan-Ryu Jujitsu.
Published November 12, 2013