2012 Fischell Festival Recap, Video Now Online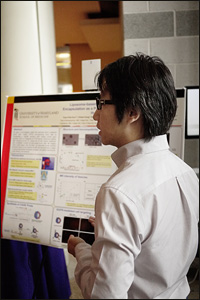 If you missed the
Fischell Department of Bioengineering
's 2012
Fischell Festival
, you can still check it out! A complete write-up, photos, and videos of all of the presentations are now online.
Each year, the Festival, a celebration of bioengineering's potential to improve life for millions of people, invites students and members of academia, government and industry to join us at the Clark School to learn more about the latest advances in biotechnology and biomedical research.
This year, topics included the introduction of the newest Fischell Fellow, the history of innovations in the field of interventional magnetic resonance imaging, nanomedicines designed to overcome obstacles within the body, the development of a predictive cell behavior model based on imaging, and the challenges biomedical device inventors face when trying commercialize new products.
Visit the 2012 Fischell Festival recap page to learn more!
Published November 16, 2012