Fischell Festival Celebrates Bioengineering, New Department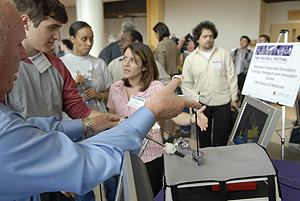 On May 3, 2007, The Fischell Department of Bioengineering held its first annual Fischell Festival. The all-day event to celebrate the department's first anniversary, billed as "A Celebration of Bioengineering's Potential to Improve Life for Millions of People," featured a variety of high-profile speakers, a telesurgery broadcast, a student poster session, lab tours, a bioengineering career information session, and the announcement of the 2007 Fischell Fellow. Guests were also able to learn more about the Kim Building's new Fischell Bioengineering Wing, which is scheduled to open in Fall 2007. The semester's final Whiting-Turner Business and Entrepreneurial Lecture, delivered by Medonic Chairman and CEO Art Collins, capped off the day's activities.
For photos and a complete recap of the day's lectures and activities, visit the Fischell Festivel web site.
Published May 11, 2007