2011 Fischell Festival Recap, Video Now Online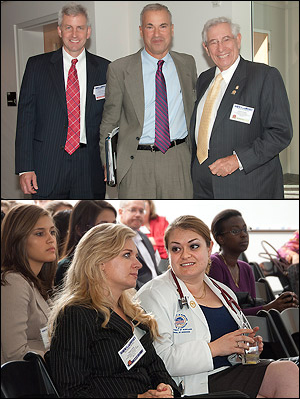 On October 20, 2011, the Fischell Department of Bioengineering (BioE) held its
fifth Fischell Festival
. The department's annual signature event featured a variety of presentations and activities, including a morning keynote address by U.S. Food and Drug Administration Chief Scientist Jesse L. Goodman, panel discussions on bioengineering career paths and entrepreneurship, a poster session, a career fair and information expo, and a Whiting-Turner Business and Entrepreneurial lecture presented by Jenny Regan, co-founder and CEO of Key Tech, a Maryland firm specializing in the commercialization of new technologies into medical devices and precision instruments.
The Fischell Festival, a celebration of bioengineering's potential to improve life for millions of people, provides guests interested in biomedical engineering the opportunity to mingle and learn in a casual setting. Attendees include everyone from high school students considering a career in engineering, to current students, doctors, representatives of biotechnology companies and organizations, and faculty from throughout the University System of Maryland and beyond.
You can read all about the Fischell Festival and see photos and video from the event online at fischellfestival.umd.edu. Reviews of past Festivals are also available.
Published October 28, 2011