Taking Aim at Blood Infections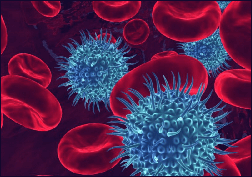 Fischell Institute faculty member Don DeVoe and fellow University of Maryland (UMD) researchers have developed a micro-scale device for analyzing bacteria in human blood that could enable the rapid and efficient identification of pathogens at the point of care.
Bacteria in the bloodstream can lead to potentially life-threatening health problems, such as sepsis or infection of other tissues. In many such cases, timely identification of blood-borne bacteria is critical to a patient's recovery from infection, as treatment is needed to prevent tissue damage or organ failure.
Knowing this, DeVoe teamed up with Jung Yeon Han and Michael Wiederoder of UMD's A. James Clark School of Engineering to develop a device that uses a highly porous construct to form capillaries that are capable of selectively isolating bacteria from human blood while leaving the living bacteria intact for analysis. Thanks to this construct – known as a porous silica monolith – the research team can enable rapid sample preparation and bacteria analysis using single-cell Raman spectrometry, a non-invasive and label-free technology.
The researchers believe that by integrating the millimeter-scale monoliths into microfluidic devices they could enable rapid preparation and culture-free bacterial analysis at the point of care. Their work was published in Nature-family journal Microsystems & Nanoengineering earlier this summer.
Currently, the gold standard for bacteria characterization is based on phenotypic analysis in cell culture. This process requires anywhere from 24 hours to several days between sample collection, culture, and analysis in a clinical microbiology laboratory. Although culture-based analysis is robust and inexpensive, it cannot generate timely results. In cases of sepsis and other serious tissue infections, this narrow treatment window could mean a world of difference when a patient's life is on the line.
Moving forward, DeVoe, Han, and Wiederoder hope to merge confocal Raman microscopy tools with emerging handheld systems to open the door for rapid and portable point-of-care devices.
In addition to his appointment with the Robert E. Fischell Institute for Biomedical Devices, Don DeVoe is a professor and associate chair with the Department of Mechanical Engineering (ME), and an affiliate of the Fischell Department of Bioengineering (BIOE) and the Department of Chemical and Biomolecular Engineering. Han – who served as first author on the Microsystems paper – is a postdoctoral associate in ME. Wiederoder is a University of Maryland alum who earned his Ph.D. in bioengineering in 2016 and his M.S. in food science in 2011.
Published August 15, 2019