Tao Elected Fellow of American Society of Agricultural and Biological Engineers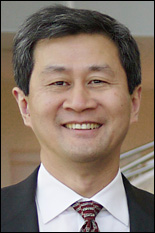 The A. James Clark School of Engineering and the Fischell Department of Bioengineering (BioE) extend their congratulations to Professor
Yang Tao
, who was elected to Fellowship in the
American Society of Agricultural and Biological Engineers (ASABE)
.
Tao was cited for his nationally and internationally recognized expertise "in cutting-edge research programs, [for] achievements in the applications of machine vision and bio-imaging, [for] developing innovative and practical high-tech systems and technologies for food safety and quality, and for cost-effective production of poultry, fruit, vegetables, and other products."
After earning his Ph.D. from Penn State in 1991, Tao served as the Vice President and Director of R&D of AGRI-TECH, Inc., where he led the development of machine vision, non-invasive inspection, packing, and optical-electronic and robotic sorting systems. These included the award-winning Merlin® color vision sorting system, capable of handling and grading up to 44 tons of fruits or vegetables per hour. He was a member of the engineering faculty of the University of Arkansas from 1996–2000. In 2000, he joined the University of Maryland's Department of Biological Resources Engineering, and in 2006 was appointed to the faculty of the newly created Fischell Department of Bioengineering.
Tao's current research projects include the development of a new system for de-capping up to 120 strawberries per second while increasing worker and product safety, and a hyperspectral imaging system used to help separate the meat of the North American black walnut—a more difficult nut to crack than the familiar English walnut—from its shell.
Outside of the lab, Tao leads the BioE's two-semester, senior year Capstone course, in which teams of students design and construct a prototype medical device designed to address a real-world problem. In addition to teaching students about the invention process, market research and patent procedures, Tao coordinates matching each team with both a faculty advisor and an external mentor from the University of Maryland School of Medicine, a regional hospital, or a biotech company. He also teaches the department's medical instrumentation course.
Tao joins former BioE professor and College of Agriculture and Natural Resources Associate Dean for Research Adel Shirmohammadi on ASABE's roster of Fellows.
"Yang is a dedicated researcher and educator," says Shirmohammadi. "He connects with both undergraduate and graduate students in a friendly and enthusiastic manner. He is a true scholar and academician...He has several patents to his credit, including an apple sorting machine that sorts more than 50 percent of the golden delicious apples in U.S. As a colleague, he is a true friend and inspiration to me."
Tao will be formally inducted at the ASABE's national meeting, to be held in Kansas City, Ks., in July 2013.
Published January 7, 2013