Transforming Medicine, Impacting Health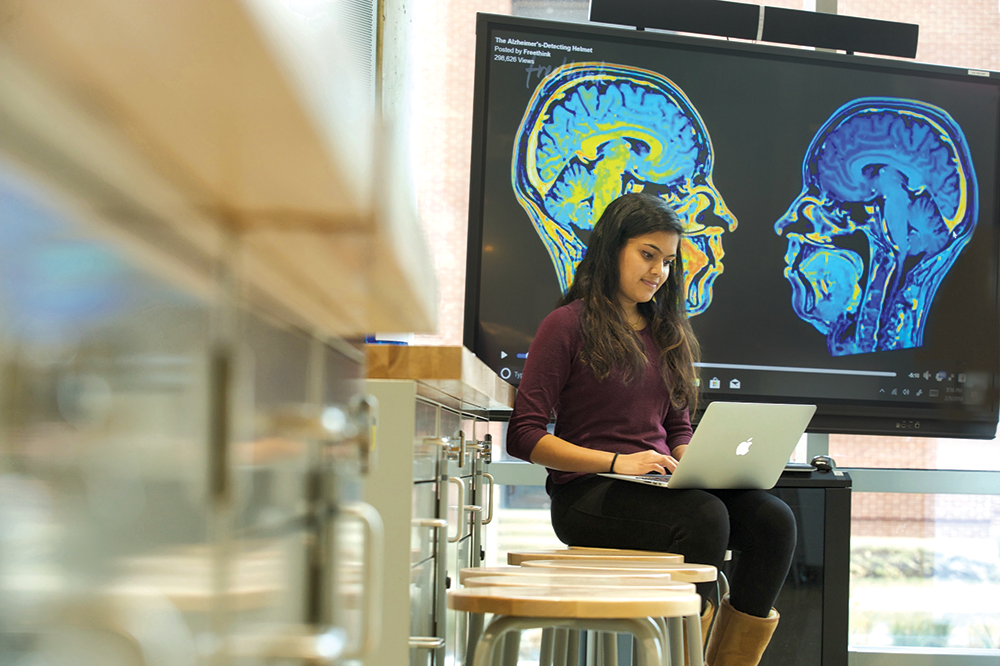 While many freshmen were acclimating to college life, a team of first-year students from the the A. James Clark School of Engineering and College of Computer, Mathematical, and Natural Sciences was adjusting to life as biotech inventors.
Organized by the University of Maryland student chapter of the Biomedical Engineering Society, team Synapto developed a portable electroencephalogram (EEG) that uses a specially designed headset and a new software analysis tool to detect Alzheimer's disease before a patient displays clinical symptoms. For their efforts, they won first place and the top prize of $20,000 in the 2017 National Institutes of Health (NIH) Design by Biomedical Undergraduate Teams (DEBUT) challenge.
The award money went toward Synapto's provisional patent for the device that exploits changes observed in the brainwaves of Alzheimer's patients. Having filed for an LLC in Maryland, the new startup's founders believe that being students gives them an edge.
"Students have to find the most efficient, cost-effective, and accessible way to solve a problem," says Synapto's co-founder and Chief Technology Officer, bioengineering and computer science student Christopher Look, who developed the machine-learning side of the device.
Synapto's co-founder and Chief Executive Officer, bioengineering student Dhruv Patel, reports the team is applying for grants and hopes to conduct a clinical pilot study to gather the EEG data necessary to build the product for use in doctors' offices as an alternative to costly brain scans. "The patterns and trends seen in neurologically diseased patients today could be applied to various other diseases in the future," says Patel.
Assistant Professor of Bioengineering Steven Jay, who served as faculty advisor for Synapto's challenge submission, praises the students for their resourcefulness. "They showed that you can apply knowledge gained from classes in the real world, and without major funding. Their success will help attract interest from industry and will inspire other students to take advantage of new resources." One such resource: A. James Clark Hall's Leidos Innovation Lab, an ideal collaborative environment for the next generation of bioengineers to address humankind's daunting global health challenges.
Competitions like the NIH DEBUT challenge help students discover new knowledge by spurring transformative engineering and biomedical technologies that can be applied for the betterment of our world. "It feels great to be validated, to get my name in Forbes," Look says of Synapto's success, "but I'm always thinking about the final impact on people."
Read more about student competitions at the Clark School in our Spring 2018 issue of Engineering at Maryland magazine.
Published April 17, 2018