BioE Researcher Wins Invention of the Year – Life Science Award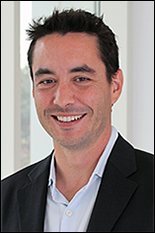 On Wednesday, April 29, Fischell Department of Bioengineering (BioE) Research Assistant Professor Javier Atencia-Fernandez was named the recipient of the University of Maryland (UMD) Office of Technology Commercialization (OTC) Invention of the Year Award for the Life Science category. Atencia-Fernandez was recognized for his work developing a chip used to separate bacteria from complex food samples.
Each year, a panel of judges comprised of UMD personnel and industry experts selects one winner from groups of finalists in each of three categories: life science, information science and physical science. Atencia-Fernandez's invention was one of 187 OTC received for this year's Invention of the Year awards. Of the 187, only nine were chosen as finalists.
Detection of pathogens present in food samples typically requires 12 to 36 hours in food safety labs – and, time spent in the lab can mean food with short shelf-life is sent to consumers before testing is completed.
Fortunately, the disposable chip developed by Atencia-Fernandez and his research team promises to speed up the detection process considerably, allowing food safety experts to detect pathogens in less than an hour. It does this by first extracting bacteria from food samples without enrichment – the procedure of increasing the number of bacteria to enable pathogen detection without interference from the food matrix.
"The bottleneck of pathogen testing is sample preprocessing," Atencia-Fernandez said. "Test samples are often a complex mixture of small numbers of pathogens combined with large numbers of other cells, foreign DNA, and other solid particles."
To overcome the challenge of preprocessing, Atencia-Fernandez and his team created a gradient of chemical repellent across the food sample, which induces bacteria to flee from the sample and self-separate into a clean buffer. Thanks to this process, Atencia-Fernandez's team is able to identify specific strains using simple polymerase chain reaction (PCR) testing. Even more, this simplicity makes the chip easy for any lab technician to use, and allows onsite testers to carry out quick extraction in the field.
As a result, Atencia-Fernandez's chip could make all the difference in food safety.
"Ideally, testing that can produce results within a single eight-hour work shift would allow results to be obtained prior to food being shipped to customers," he said. "This could dramatically decrease the number of incidences in which consumers are exposed to hazardous pathogens in foods."
Atencia-Fernandez's research has been funded by the National Institute of Standards and Technology (NIST) Office of Special Programs.
The Office of Technology Commercialization put Atencia-Fernandez in touch with the Maryland Technology Enterprise Institute (MTech) and is now working on getting the technology commercialized.
Prior to his Invention of the Year – Life Science category award, Atencia-Fernandez won the Best Inventor Pitch at the 2014 Professor Venture Fair, held as part of Bioscience Research & Technology Review Day.
BioE has a track record of success in the Invention of the Year - Life Science category awards. Last year, Professor John Fisher and 2011 Fischell Fellow Anthony Melchiorri took home the award for their entry, "Polymer Based Material Resin for 3-D Printing of Medical Implants and Devices."
Published April 29, 2015