BIOE Researchers Host 4th Annual Symposium featuring High School Bioscience Students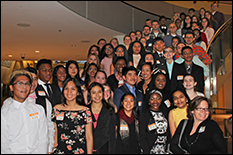 On Tuesday, May 23rd, Fischell Department of Bioengineering (BIOE) researchers teamed up with faculty and students from Wheaton High School of Silver Spring, Md., to host the fourth annual Program to Enhance Participation in Research (PEPR) Poster Symposium and Reception.
Held in the Jeong H. Kim Engineering Building at the University of Maryland campus in College Park, Md., the PEPR Symposium caps off a yearlong opportunity established for Wheaton's Bioscience Magnet Program. Through PEPR, students learn about the research process by focusing on a bioengineering topic of their choosing. To further their efforts, each program participant is partnered with a Fischell student or postdoctoral mentor, and tasked with interviewing experts, reading scientific literature, and writing a review article.
BIOE Assistant Professor Christopher Jewell created the PEPR program as part of his National Science Foundation CAREER Award. PEPR kicked off in 2013 and, this year, 28 students from the Wheaton High School Biosciences Magnet Program participated.
PEPR provides each student with a unique chance to delve into bioengineering topics and get a first taste of what it would be like to pursue a career in science and engineering, Jewell said.
"PEPR students are learning skills that are going to be important no matter what they might pursue as they move on," he added.
Each of this year's PEPR students gathered for the May symposium to present their research posters and answer questions about their chosen topics, which ranged from breast cancer therapies, and osteoporosis treatment, to research on the Zika virus and an in-depth look at cardiac arrest.
Ellisa Early-Hidalgo, Academy and Applications Program Coordinator with Wheaton High School, also serves as a PEPR coordinator. This year's Fischell Department of Bioengineering PEPR mentors were: James Andorko, George Banis, Michelle Bookstaver, Ashley Chapin, Christina Conrad, Neil Dold, Mary Doolin, Nidhi Gandhi, Emily Gosselin, Kelsey Gray, Krystina Hess, Anjana Jeyaram, Janell Joyner, Kenneth Ke, Annie Laib, Ryan McKay, Rebecca Moriarty, Divya Patel, Ajmeeta Sangtani, John Schardt, Marina Shumakovich, Kristina Stephens, Shannon Tsai, Eric VanArsdale, Josh Webb, and Jessica Yau.
Published June 2, 2017