BMES Hosts STEM Expo for Area Middle School Students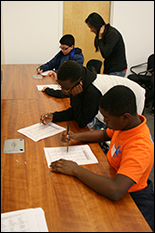 The University of Maryland chapter of the Biomedical Engineering Society (BMES-UMD) welcomed 50 students from area middle schools to the College Park campus to take part in the chapter's first-ever Empowering STEM Leaders expo on Saturday, Nov. 5.
BMES-UMD led students from Buck Lodge Middle School and Greenbelt Middle School in a day of hands-on activities that not only shed light on various opportunities in science, technology, engineering, and mathematics, but also demonstrated the importance of creativity and teamwork both in and outside the classroom.
"We wanted to drive home the message that the STEM fields offer a lot of cool opportunities, while also letting kids know that being a leader in STEM takes more than just being good at math and science," said Fischell Department of Bioengineering (BIOE) undergraduate Adam Berger, BMES-UMD president. "Being a leader also means working in teams and working well with others."
"Children are taught the concepts of math and science in school, and are expected to know these skills inside and out. But, without the correct leadership skills and the know-how to work in a team, solve a complex problem, or even effectively communicate an idea, children might become discouraged when they think of STEM," said Janna Wisniewski, BIOE undergraduate and BMES-UMD Vice President of Service and Outreach.
BMES-UMD first explored the idea of hosting an expo for middle school students when BIOE alumnus Kenny Ke (B.S. '16) filed for a Pepsi Enhancement Fund grant to allow the chapter to explore new ways to inspire elementary and middle school-aged kids to learn more about STEM while developing leadership skills. When Ke graduated, Wisniewski stepped in, eager to help carry the torch.
"I'm so glad that Kenny had this idea and that we were able to host the event because I'm very passionate about STEM outreach, especially to kids of middle school age," Wisniewski said. "A lot of students are excited about learning in elementary school, but, middle school is a hard time. In my opinion, the goal of STEM outreach [to middle school students] is to remind kids that science is actually really, really cool. With this spark, we hope these students go on to work hard in their classes, complete high school, pursue STEM degrees in college, and become the next generation of innovative inventors or researchers."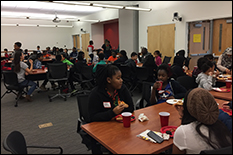 To help build an environment in which students from both schools were able to work together and learn from one another, BMES-UMD broke the students into three groups to rotate through three activity stations. Rather than assign students to random groups, however, BMES-UMD led the students through a fun personality quiz that assigned each student a color group based on his or her demonstrated leadership style. Then, each of the groups visited the three activity stations and participated in hands-on challenges – such as building "robotic" hands using Popsicle sticks, straws, tape, and string, and constructing towers using dry spaghetti, marshmallows, and minimal art supplies. The exercises not only provided students with an opportunity to practice teamwork and communication skills, but it also helped the students understand that people with different leadership styles can contribute different approaches to problem-solving.
After each of the middle school students completed their hands-on tasks, the group broke for lunch before completing the "egg drop challenge" – whereby students used various materials to protect an egg such that it would survive a two-story drop.
"This was my favorite activity of the day, mostly because the kids were so excited about it," Wisniewski said, noting that all of the students' eggs survived the fall. "It just goes to show how innovative these students are!"
The event proved to be a tremendous success, thanks to the full team of BMES-UMD board members and volunteers, as well as support from the Pepsi Enhancement Fund and the Fischell Department of Bioengineering, both Wisniewski and Berger noted. Additionally, BMES-UMD worked to ensure that each of the middle school students could participate in the expo for free.
"Organizing this event and, more importantly, talking to the kids and seeing firsthand just how much fun they were having, rekindled my passion for service and my child-like excitement for science," Wisniewski said. "Sometimes, as bioengineering undergraduate students, we get so weighed down by homework, quizzes, exams, difficult computations, intricate design projects, and complex group projects that we forget why we chose engineering in the first place. But there was something about seeing a team of middle school students build a sturdy spaghetti tower on a Saturday morning that reminded me of how it amazing it feels to use your skills and knowledge to solve a difficult problem of a group of equally passionate individuals. Isn't that what it means to be an engineer?"
Building on this momentum, BMES-UMD plans to work with high school students in spring 2017 by offering daylong bioengineering "crash courses" covering areas such as Python programming language and CAD (computer-aided design) software, Berger said.
For more information about upcoming BMES-UMD events or to learn how you can support the chapter's service initiatives, please email bmesumdcp@gmail.com.
Published November 22, 2016