BMES, Inova Team up for Record-Setting Blood Drive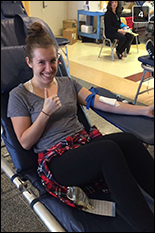 On Friday, Nov. 4, the University of Maryland chapter of the Biomedical Engineering Society (BMES-UMD) hosted its first-ever blood drive, with support from Inova Blood Donor Services.
More than 120 volunteers turned out for the event, which took place in the Jeong H. Kim Engineering Building Innovation Hall of Fame on the University of Maryland campus in College Park. All told, 97 donors were accepted, making the drive Inova's largest on the College Park campus in more than a decade.
"As bioengineers, it's important that we give back to the medical community," said Adam Berger, Fischell Department of Bioengineering (BIOE) senior and BMES-UMD president. "The relationship between us and the medical community needs to work both ways. We're not just taking the knowledge of the medical community, and we're not just trying to improve the medical community; we're also working with the medical community.
"Donating blood is critical," he continued. "No matter how much research is done, there's no replacement for blood donations. Our goal with the blood drive was to give back and have a mechanism through which the University of Maryland engineering community could come together to support such an important cause."
Similarly, each of the BMES-UMD board members was moved by the outpouring of support from volunteers, Berger noted.
"To see everyone come together for one common cause across all of engineering – and even from outside engineering – was very powerful," he said.
More information on upcoming BMES-UMD service initiatives is available online.
Published November 21, 2016