Duncan Named 2020 CMBE Rising Star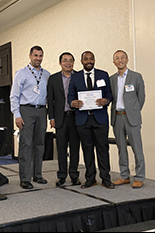 Fischell Department of Bioengineering Assistant Professor Gregg Duncan was named a member of the Biomedical Engineering Society (BMES) Cellular and Molecular Bioengineering (CMBE) 2020 Class of Rising Stars. CMBE brings together researchers with diverse scientific and clinical interests with a common goal of understanding and engineering molecules, cells, their interactions and microenvironments in the pursuit of controlling biological processes and improving the practice of medicine.
CMBE's Rising Star award is given to a select group of exceptional junior principal investigators each year. In recognition of his achievement, Duncan was invited to present his findings and receive his award at the 2020 CMBE Conference held in Puerto Rico Jan. 2-6, 2020.
Duncan's research focuses primarily on complex biological fluids and interfaces, nanoscale diagnostics and therapeutics, and lung diseases. In 2019, Duncan was selected to serve on the inaugural Early Career Advisory Board at Langmuir, and in 2018, he received the Oak Ridge Associated Universities Ralph E. Power Junior Faculty Award.
Published January 10, 2020