Fisher to Receive 2020 Society for Biomaterials Award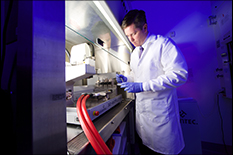 The U.S. Society for Biomaterials (SFB) announced this week that Fischell Department of Bioengineering (BIOE) professor and chair John P. Fisher was named the 2020 recipient of the Clemson Award for Contributions to the Literature. The award honors an individual who has made a significant contribution to literature on the science or technology of biomaterials.

SFB is a professional society, which promotes advances in biomedical materials research and development by encouragement of cooperative educational programs, clinical applications, and professional standards in the biomaterials field.

SFB is composed of members who have experience in numerous sectors of the biomaterials field, ranging from clinicians and researchers to medical device manufacturers and students studying biomaterials.

Fisher will be honored along with other SFB award recipients at the World Biomaterials Congress in Glasgow, Scotland, May 19-24, 2020.

In addition to his appointment as Fischell Family Distinguished Professor and Chair of BIOE, Fisher is the director of the NIBIB/NIH Center for Engineering Complex Tissue, which aims to create a broad community focusing on 3D printing and bioprinting for regenerative medicine applications.

As the director of BIOE's Tissue Engineering and Biomaterials Laboratory, Fisher and his group investigate biomaterials, stem cells, bioprinting, and bioreactors for the regeneration of lost tissues – particularly bone, cartilage, and cardiovascular tissues. Fisher has been elected Fellow of both the American Institute for Medical and Biological Engineering (2012) and the Biomedical Engineering Society (2016). He is currently the co-editor-in-chief of the journal Tissue Engineering, as well as the Chair of the Americas Chapter of the Tissue Engineering and Regenerative Medicine International Society (TERMIS-AM).
Published January 10, 2020