UMD and JHU Students Host Research Fair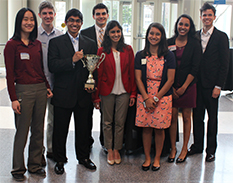 Undergraduates from the Clark School's Fischell Department of Bioengineering (UMD BioE) and Johns Hopkins University's Department of Biomedical Engineering (JHU BME) joined forces to host the second annual JHU-UMD Undergraduate Research Fair on March 28.
Designed to showcase the impact and quality of undergraduate research, as well as to encourage classmates to pursue their own laboratory experiences, the event was held this year at the Jeong H. Kim Engineering Building on the University of Maryland campus in College Park, Md. Guest speakers included Clark School benefactor Dr. Robert Fischell, Department Chair and Robert E. Fischell Distinguished Professor William Bentley, and Director of Mtech Baltimore, Dr. Martha Connolly.
Following the success of last year's event, held on the JHU Homewood campus in Baltimore, the two universities' student chapters of the Biomedical Engineering Society (BMES) coordinated this year's event under the leadership of chapter presidents Luke Peterken (UMD BME) and Anvesh Annadanam (JHU BME).
"I only hope that all of you learn what I've learned over the last 40-plus years," Dr. Fischell told the audience. "Do biomedical engineering as a hobby, because it's doing well, by doing good – and there's nothing better you can do in life than say, 'I've changed the lives of 20 million people because what I did [promoted] health, and that's the most important thing for happiness."
"I think biomedical engineering is a great profession," Dr. Connolly added. "Whether you're making artificial organs or scaffolds, or looking at breast cancer cell markers or some of these incredibly neat things we saw today – I can't imagine why you wouldn't just get up every day and say, 'This is the best place to be in for my career.'"
Dr. Connolly discussed the impact of biotechnology on the lives of millions and cited examples of present-day companies making a difference.
"Biomedical engineers are uniquely positioned to improve the human condition," she said. "What's great about biomedical engineering is that we get the chance to affect human health and human lives – and that's something we should never lose sight of."
About two dozen posters were exhibited and six authors among those were selected to deliver oral presentations. A panel of judges from a variety of outside organizations recognized the top three oral presentations, while all attendees had the opportunity to vote for the top three posters.
This year's winners were:
Simon Ammanuel (JHU BME), who took 3rd Place for his poster, "24h Quantitative-EEG and In-vivo Glutamate Biosensor Detects Activity and Circadian Rhythm Dependent Biomarkers of Pathogenesis in MeCP2 KO Mice"
Kristen Giles (UMD BioE), who took 2nd Place for her poster, "Competitive Displacement Reaction for DNA Sequence Biosensors Using a Stem-loop Hybridization Scheme"
Max Collard (JHU BME), who took 1st Place for his poster, "Online Mapping of Task-Related Networks Using Electrocorticography"
Elisabeth Sooklal (UMD BioE), who took 3rd Place for her oral presentation, "Weakly-Cytophillic Polyelectrolyte Multilayers Maintain Microtentacle Dynamics in Circulating Breast Tumor Cells"
Austin Jordan (JHU BME), who took 2nd Place for his oral presentation, "Localizing Seizure Foci in Medically Refractory Epilepsy Patients"
Josh Temple (JHU BME), who took 1st Place for his oral presentation, "Anatomically Shaped Vascularized Bone Grafts with Adipose-Derived Stem Cells and 3D-Printed PCL Scaffolds"
This year's event was made possible by sponsorship from the Alumni Association, BMES, Johns Hopkins University and the University of Maryland. The organizers and attendees also wish to thank the following organizations, which provided judges for the event: Canon Life Sciences, Ingenuity Medical Device Research, Johns Hopkins University, W.L. Gore, Senseonics, BioHealth Initiative and Mtech Baltimore.
In addition to Peterken and Annadanam, the event's organizers included UMD BMES Chapter Executive Board Members Divya Jain—who served as Outreach Director for the event—and Sumouni Basu—who served as Senior Volunteer Coordinator, as well as Haig Pakhchanian, Winston Liu and Lily Sooklal. Additional support was provided by UMD's Julie Boylan, Patricia Barton, Connie Chen, Michael Burgan, Kenneth Ke, Adetola Abdulkadir and Richard Gil II.
A photo gallery from the day's events is available online.
Published April 1, 2014