BMES-UMD Ice Bucket Challenge Raises Funds for ALS, Mentorship Program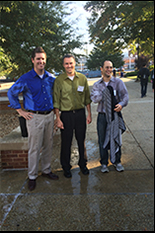 On the heels of the 2014 Fischell Festival, the University of Maryland Biomedical Engineering Society (BMES-UMD) hosted its first-ever Ice Bucket Challenge on Oct. 16 to raise money to support both ALS research and the BMES-UMD peer mentorship program.
With a commitment to serving the Fischell Department of Bioengineering and its students, BMES-UMD provides peer mentorship by upperclassmen to underclassmen, for which continued success relies on student participation and fundraising support. In the past year alone, the program has grown from 45 to more than 100 mentor/mentees.
In order to raise funding to support these worthy causes, BMES-UMD invited students, faculty, staff and alumni to purchase votes for their favorite faculty member they wished to see brave the ice bucket challenge. With 199 total votes, BioE Professor and Associate Chair John Fisher was chosen for the challenge; however, second-place and third-place finishers Associate Professor Ian White and Professor Ben Shapiro were surprise participants.
All told, the BMES-UMD Ice Bucket Challenge raised $653, which was divided equally to support ALS research and the BioE mentoring program.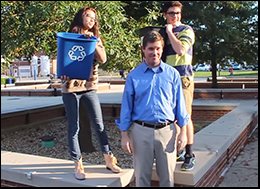 View the Ice Bucket Challenge Video
Published October 29, 2014