Stroka Awarded BMES 2014 Rita Schaffer Young Investigator Award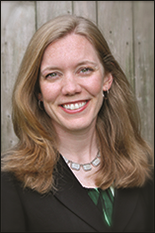 Newly appointed Fischell Department of Bioengineering Assistant Professor Kimberly Stroka (Ph.D, '11) was named the recipient of the 2014 Biomedical Engineering Society (BMES) Rita Schaffer Young Investigator Award.
Offered each year by the BMES to stimulate research careers in biomedical engineering, the award is given to a young investigator whose originality and ingenuity is demonstrated in a published work.
Stroka, an alumna of the Fischell Department of Bioengineering, will officially begin her appointment as assistant professor at the University of Maryland in January 2015.
Most recently, she completed her postdoctoral training at Johns Hopkins University in the Department of Chemical and Biomolecular Engineering and Institute for NanoBioTechnology. Prior to receiving her Ph.D. in Bioengineering in 2011 from UMD, she graduated summa cum laude with a B.S. in Physics from Denison University in 2006.
In her Ph.D. work, Stroka developed a novel hydrogel-based in vitro model in order to evaluate the effects of blood vessel stiffening on endothelial cell biomechanics, leukocyte mechanosensing, and leukocyte transmigration, during a normal immune response and in the context of cardiovascular disease. In her postdoctoral work, she integrated microfabrication, molecular biology, live cell imaging, and theoretical modeling in order to uncover a new mechanism by which metastatic tumor cells migrate through confined microenvironments.
Stroka will receive a crystal award, complimentary registration to the BMES annual meeting in October, a check for $1,000, and travel expenses for the annual meeting up to $1,000. Additionally, she will present the Rita Schaffer Young Investigator Lecture at the meeting, as well as publish the text of the lecture in the Annals of Biomedical Engineering.
Published September 5, 2014