Bradberry Wins Wylie Fellowship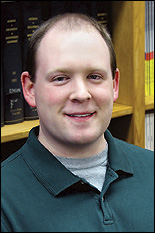 Fischell Department of Bioengineering graduate student Trent Bradberry, advised by Associate Professor José Contreras-Vidal (Kinesiology), has been awarded an Ann G. Wylie Dissertation Fellowship. The fellowship, created for students who are in the final stages of writing their dissertations, includes a stipend of $10,000, candidacy tuition remission and financial assistance toward the cost of health insurance.
Bradberry works in Contreras-Vidal's Movement Disorders Lab, part of the Cognitive Motor Neuroscience Lab at the University of Maryland College Park School of Public Health, where he studies brain-computer interfaces (BCI), specifically those that are non-invasive. Devices that make use of the brain's direct interaction with a computer—often known as neuroprosthetics—have the potential to make life easier for people with limited or lost mobility due to injury or disease. For example, a neuroprosthetic could take the form of a robotic arm that reaches, picks up objects, or manipulates other devices by interpreting the electrical activity in its user's brain. Bradberry's research focuses primarily on helping those with spinal injuries, where the brain is healthy but the body cannot respond to its commands.
Bradberry, a former Raytheon signal processing specialist, plans to pursue an academic career after graduating.
Learn More About Trent Bradberry's Research:
Graduate Student Profile: "Combining Engineering and Neuroscience to Create Assistive Technology" »
Published May 7, 2009