Wang Wins Wylie, Graduate All-STAR Fellowships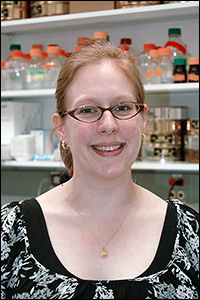 Clark School Fischell Department of Bioengineering (BioE) graduate student Martha Wang, advised by BioE professor and associate chair John Fisher, has been awarded an Ann G. Wylie Dissertation Fellowship and a University of Maryland Graduate School All-STAR Fellowship in recognition of her scholarship and research in tissue engineering treatments for load-bearing bone defects.
The Wylie fellowship, created for students who are in the final stages of writing their dissertations, includes a stipend of $10,000, candidacy tuition remission and financial assistance toward the cost of health insurance. The newly created All-S.T.A.R. (Scholarship, Teaching, Administration, Research) Fellowship, which provides a $10,000 stipend, recognizes graduate students who "…demonstrate both outstanding scholarship and must have made a significant contribution or impact while serving as a teaching assistant, research assistant, or administrative assistant."
Wang, who earned her B.S. in chemical engineering and biomedical engineering from Carnegie Mellon University in 2004, conducts her research in Fisher's Tissue Engineering and Biomaterials Laboratory. There, she works with a novel biomaterial called (poly(propylene fumarate) that can be used to heal large gaps and serious breaks in load-bearing bones, such as in the legs.
Wang's research uses 3D printed poly(propylene fumarate) structures that may be designed to fit precisely into voids left by missing bone. These patches serve as scaffolds, or support structures, for the cultivation of adult stem cells. The stem cells are differentiated into bone cells within a bioreactor and loaded into the poly(propylene fumarate) scaffolds, which may then be implanted into a defect site. Once implanted in a patient, the stem cells continue to differentiate into bone cells, multiply and create a new bone matrix. Over time, the scaffold safely degrades as new, healthy bone takes its place, until the gap is filled and the wound is healed.
"My project is exciting as it combines many facets of tissue engineering–polymer engineering, 3D printing, bioreactors and stem cells–all into one project," says Wang, who chose the Clark School for her graduate studies because she wanted to be part of Fisher's team. "I also love the location," she adds. "[It's] close to Washington, D.C. and Baltimore, so there are many things to do outside of research."
Wang has also been recognized for her work as an educator. She received the University of Maryland Center for Teaching Excellence's Distinguished Teaching Assistant Award in 2012. In Fisher's lab, she mentors undergraduate researchers.
"For the past 3 years I have had the pleasure of working with multiple undergraduates, including Joshua Thompson, recipient of [one of 2013's] UMD Undergraduate Researcher of the Year [Awards], and Charlotte Vorwald," she says. "They both have played significant roles in the success of our research."
After earning her doctorate, Wang would like to return to a position in industry in which she can serve as a liaison between manufacturing, research and regulatory departments in the biotech field.
For more information on the Wylie and All-STAR Fellowships, visit the Graduate School's fellowship page »
Published May 16, 2013