Dowling Named A Maryland Innovator of the Year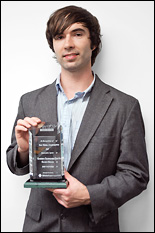 Fischell Department of Bioengineering graduate student and Fischell Fellow Matthew Dowling has been named one of the
Maryland Daily Record
's 2009 Innovators of the Year. Dowling, who is advised by Department of Chemical and Biomolecular Engineering associate professor Srinivasa Raghavan, was honored for the blood-clotting "nano-Velcro" technology produced by his startup company, Remedium Technologies, Inc. It is the latest in a string of business and invention competition wins over the past two years.
The Daily Record's Innovator of the Year awards are given to individuals whose ideas have had a positive effect on business, community, or industry in Maryland. Dowling and his fellow award recipients were recognized at an event at the American Visionary Art Museum in Baltimore, Md. on October 14. The panel of judges included representatives from the U.S. Small Business Association and the law firm Whiteford Taylor Preston, which specializes in patents and intellectual property.
Remedium is developing a chitosan-based material that is able to adhere to tissue in a very effective manner, providing nearly immediate hemorrhage control. The chitosan is modified with nano-"hooks" that optimize blood coagulation and tissue adhesion for a wide range of injuries. The "hooks" also allow for reversible Velcro-like interaction between chitosan and blood and tissue, which has led Remedium to use the the moniker "nano-Velcro" to describe the technology.
For More Information:
Visit the Innovator of the Year web site »
Visit the Remedium Technologies web site »
Visit Professor Raghavan's Complex Fluids and Nanomaterials Group web site, where Matthew Dowling conducts his research »
Visit the Fischell Department of Bioengineering web site »
Published October 19, 2009