Drug Delivery System Wins Professor Venture Fair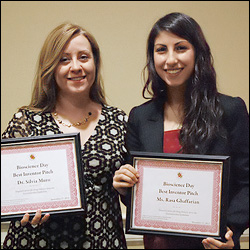 A pair of Clark School researchers were honored at the University of Maryland's 2012 Bioscience Research & Technology Review Day for their presentation of a novel drug delivery strategy that uses targeted carriers capable of crossing the gastrointestinal (GI) tract into the circulation. Associate Professor Silvia Muro (joint, Fischell Department of Bioengineering [BioE] and Institute for Bioscience and Biotechnology Research) and her advisee, BioE graduate student Rasa Ghaffarian, won first place in the annual event's Professor Venture Fair.
Hosted by the Maryland Technology Enterprise Institute (Mtech), the university's Office of Technology Commercialization, and the College of Computer, Mathematical, and Natural Sciences, the annual Professor Venture Fair gives faculty inventors the opportunity to pitch their new technologies to a team of regional venture capitalists and entrepreneurs. The competition encourages scientists to consider the commercial viability of their work and challenges them to translate their ideas into a presentation for a general, non-technical audience.
Muro's innovation uses the GI tract's built-in transportation system, the transepithelial pathway, to move orally administered therapeutic or diagnostic molecules into the bloodstream. The delivery process, which takes advantage of the natural behavior of the intestines' epithelial cells, is safe, fast, and efficient. Oral administration of drugs and therapeutics is usually preferred due to its simplicity, low cost, and higher level of patient comfort and compliance.
However, in many cases, only a fraction of the dose swallowed ever reaches its target due to the harsh environment of the digestive system. This is particularly true for biological treatments, such as vaccines or antitoxins, that cannot currently be administered orally. Muro's group has been able to overcome this obstacle by strategically and effectively targeting biologicals to the GI epithelial cells to provide safe and speedy transport with no negative effect on GI permeability.
"We are proud to have this invention recognized in such a prestigious forum," says Muro. "It's a culmination of years of effort in what we believe to be a very important therapeutic intervention. There is no doubt that…this discovery will be able to enhance oral biological therapies as well as the safe targeting of drug delivery carriers." The technique, she adds, holds great potential as a general platform for gastrointestinal delivery into the circulation and for the treatment of gastrointestinal epithelial cells involved in infections, inflammatory conditions, and cancer.
The delivery system also holds promise for other applications, including the oral delivery of therapeutics for lysosomal storage disorders and for Alzheimer's disease, small molecular drugs for the treatment of genetic conditions, and treatments against inflammation, thrombosis and oxidative stress.
Muro and Ghaffarian's team is the third led by or including members of the Fischell Department of Bioengineering that has taken first place in the competition. In 2009, Professor John Fisher won for his presentation of a bioreactor used to help generate new bone tissue for patients with serious injuries; and in 2008, former Fischell Fellow Matthew Dowling was part of team that won for its presentation of Velcro-like "biobandages" capable of clotting blood and administering drugs.
Story courtesy of and adapted from the original by Dr. Debrah Weinstein, IBBR.
For More Information:
See: Rasa Ghaffarian, Tridib Bhowmick, and Silvia Muro. "Transport of nanocarriers across gastrointestinal epithelial cells by a new transcellular route induced by targeting ICAM-1," Journal of Controlled Release, 163(1):25-33 10 October 2012.
Published December 11, 2012