Hsu Wins BioE Outstanding Graduate Research Award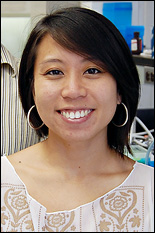 Fischell Department of Bioengineering (BioE) graduate student Janet Hsu, advised by BioE and Institute for Bioscience and Biotechnology Research associate professor Silvia Muro, received the department's 2012-2013 Outstanding Graduate Research Award for her dissertation work to date on a targeted drug delivery system capable of crossing the blood brain barrier to treat Niemann-Pick Disease Type A, a rare, fatal lysosomal storage disorder.
Since joining the department in 2008, Hsu has been the first author of four peer reviewed publications and the co-author of a fifth, as well as delivered numerous oral and poster presentations around the country. Her efforts have earned her several paper, poster and presentation honors, including the 2011 Controlled Release Society's Outstanding Consumer & Diversified Products Paper Award, which she shared with the work's first author and fellow group member, postdoctoral research associate Dr. Tridib Bhowmick. She was also selected to join the Clark School's 2011 Future Faculty program cohort. In 2012, she was one of only ten students to receive a scholarship from the World Organization for Rare Lysosomal Disorders to attend and present her work at its 8th annual meeting.
"Janet is a significant, key player in my lab and research program," says Muro. "She learned the fundamental background and technical skills necessary for her project quite fast and has proven to be a hardworking, motivated and productive young researcher….I am proud of her achievements and eager to see her moving forward with her career."
Hsu has also mentored several of the Muro Group's high school and undergraduate researchers and served as a teaching assistant for sections of BIOE 120: Biology for Engineers and BIOE 612: Physiological Evaluations of Engineering Designs. She has participated in community activities including serving as the secretary of the Bioengineering Graduate Student Society, serving on the university's Senate Academic Standard and Procedures Committee, participating in Alternative Spring Break, teaching English as a second language in Costa Rica through i-to-i, and membership in Circle K International's University of California–San Diego chapter.
Published October 5, 2012