Ian White Receives Clark School's Outstanding Faculty Service Award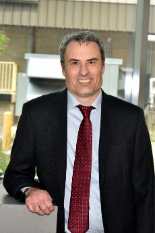 Fischell Department of Bioengineering (BIOE) Associate Professor and Associate Chair Ian White was named the 2021 recipient of the A. James Clark School of Engineering Outstanding Faculty Service Award. The award is given to a Clark School faculty member whose service to the department, to the Clark School, and to the university has been judged outstanding.
White has served as BIOE's associate chair for undergraduate studies since 2015. Shortly after assuming this role, White designed, proposed, and implemented a curriculum change that better aligned the BIOE courses with the skills that students need to gain employment. Since that time White has continued to create new electives for the program – in particular, skills-based courses that lead to job placement. Annual student feedback indicates that, in fact, BIOE students obtain their targeted jobs based on the skills, acumen, and career awareness that they received in the BIOE program.
Throughout his years as associate chair, White has also emphasized experiential learning opportunities. He created and has been implementing a plan in which many of the traditional lecture courses have added hands-on experiences, giving the students a new perspective on the material that they're learning, a reinforcement of the core material, and in some cases, additional job skills. Furthermore, he has continued to work with the instructors of the bioengineering Senior Capstone Design courses to improve student outcomes and the overall quality of the projects.
White was especially recognized for his efforts to make high-quality instruction a priority within the department. Colleagues note that engineering faculty frequently consult with White for advice on course design and delivery. One point that White has emphasized to BIOE's instructors is the importance of mid-term surveys with actionable outcomes; White distributes a template every semester to the faculty and encourages them to use it to improve their courses mid-semester.
In recent years, White launched an effort to systematically teach ethics throughout the BIOE curriculum. The plan that White presented to the department emphasizes learning ethics within the context of the technical material.
Earlier this year, White also received the BIOE Outstanding Faculty Teaching Award, and in 2016, he received the University of Maryland's Advisor of the Year Award.
White's research group – the Amplified Molecular Sensors Lab – aims to develop novel microsystems for applications in chemical analytics and disease diagnosis. In particular, the group emphasizes sample preparation for ease-of-use and amplified transduction techniques to improve detection performance.
Published May 15, 2021