Jay Lab Works Toward Engineering Extracellular Vesicles as Next-Generation Biotherapeutics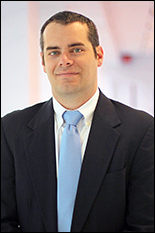 Fischell Department of Bioengineering (BioE) Assistant Professor Steven Jay was named a 2015 recipient of the Oak Ridge Associated Universities (ORAU) Ralph E. Powe Junior Faculty Enhancement Award for his research relating to extracellular vesicle-based drug delivery and therapeutic development.
Jay and members of his Vascular Pharmacoengineering and Biotherapeutics Laboratory are building on their recent studies of how extracellular vesicles (EVs) – ubiquitous, biologically-generated nanovesicles including exosomes and other types that naturally transfer nucleic acids between cells – could be used to deliver DNA and various types of RNA for genetic therapies.
In their recent Molecular Pharmaceutics paper, Jay, along with Research Assistant Professor Tek Lamichhane and biochemistry undergraduate Rahul Raiker, describe how the identification of EVs as natural carriers of small nucleic acids has sparked interest in their use for RNA interference therapies. Jay's research group worked to extend the therapeutic potential of EVs for the first time to the delivery of DNA to recipient cells towards gene therapy applications. Their findings establish critical parameters for the potential use of EVs for gene therapy while highlighting the substantial barriers that must still be overcome by bioengineers to establish EVs as broadly applicable DNA delivery vehicles.
To take this research further, Jay and his team are applying funding from the Ralph Powe award to investigate new methods for exploiting EV-based microRNA delivery, which has the potential to treat or cure numerous conditions such as cancer and peripheral vascular disease.
The promise of microRNAs (miRNAs) as therapeutic regulators of gene expression and cellular function is well established; however, clinical translation of miRNA-based therapies has been limited by insufficient and ineffective delivery approaches. EVs, as natural miRNA carriers, are promising candidate vehicles for controlled delivery of miRNAs. However, loading miRNAs into EVs is typically inefficient and potentially destructive. Jay's lab is currently pursuing new methods that allow for increased efficiency of miRNA loading without significant loss of bioactivity. Additionally, clinical translation of EV-based miRNA therapeutics will require improved methods of EV bioproduction and purification. BIOE graduate students Anjana Jeyaram and Divya Patel are working with Jay to identify the best and most efficient ways to generate and isolate EVs with maximal therapeutic bioactivity from cell cultures.
Overall, these approaches are aimed at creating a pathway towards large-scale biomanufacturing of therapeutic EVs for widespread therapeutic applications that could benefit millions of patients worldwide.
The ORAU Ralph E. Powe award is given to full-time assistant professors at ORAU member institutions with the intent to enrich the research and professional growth of young faculty. The award carries $5,000 in funding, matched by the applicant's institution.
Published January 21, 2016